Film
About Opening Our Eyes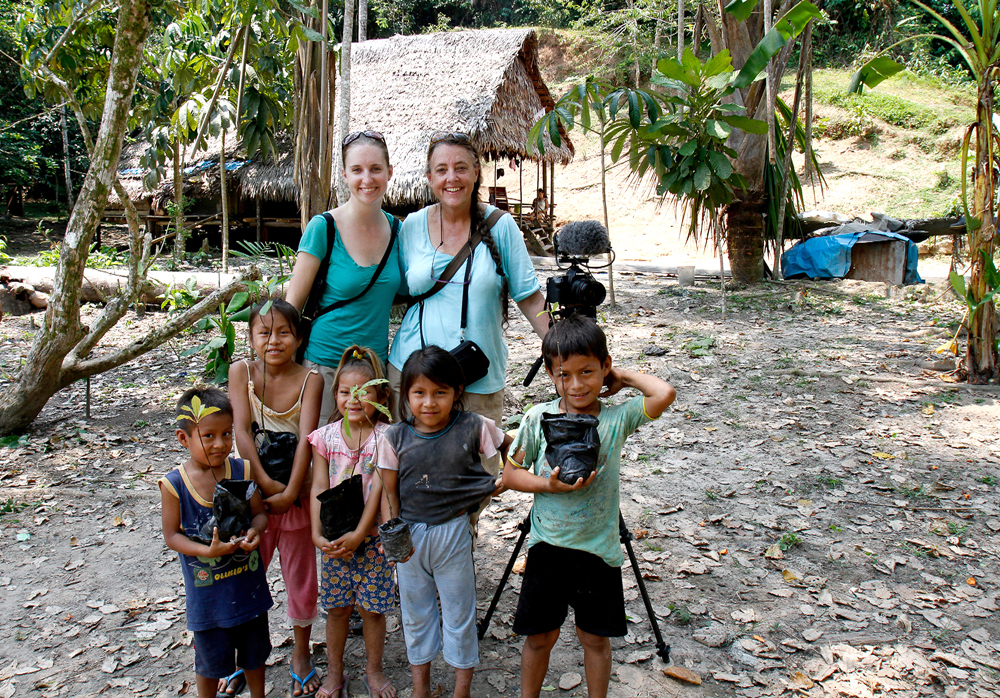 We are two people, mother/daughter filmmakers who embarked on a journey around the world in the summer of 2010. Our mission was to document and film the stories of 11 individuals on 6 continents – ordinary people who are following their own dreams, passions and ambitions and doing extraordinary things.
Each of these stories can stand along on their own right, but come together in a feature length documentary about people who are making a positive difference in the world. We use technology, web 2.0 and social media as well as set up screenings all over the world to share these stories and open the eyes of others to what they can do to make our planet a better place.
We believe in the power of one – the power of the individual – the power that each one of us has to effect positive change. We are two people who believe in the power of one.
About Gail Mooney – Producer, Director, Cinematographer
Gail Mooney is a photographer and filmmaker based in New Jersey. She is co-owner of Kelly/Mooney Productions along with her husband and partner, Thomas Kelly. Gail has traveled the world for over 30 years shooting for international companies and publications.
On Passion I believe in having a dream and following it and have lived my life that way. I believe we all have the power within ourselves to create our own future. I believe in the power of the individual and I support the underdog – the one who comes from behind, against all odds.
On Photography and Video I use the tools of my craft – my cameras – as my eyes on the world. I communicate visually, using both still imagery  ("moments in time") and motion imagery ("time in motion"), to deliver a message in their own unique way. I use whatever medium which best tells the story that I'm trying to tell. I started my career as a still photographer over 30 years ago. About ten years ago, I added video to my skill set. These days I have a foot in both worlds – still photography and motion – many times combining the two mediums on the same project or job.
I am interested in "the story" – a person's story, an institution's story or a company's story. Ultimately the stories are about the people behind them – the human story. The stories that I'm prompted to explore are stories about the powerful, the weak and everything in between. I am interested in connecting with people and the human experience and use my cameras as an entree to that end.
On Travel, People, Cultures and The World I've spent a lifetime traversing the globe and never tiring of it. Each destination and experience has added to my life and I can't imagine a life without exploration. I doubt there will ever come a time when this need will ever be satisfied. To explore and connect with other people and their cultures is my life's journey.
About Erin Kelly – Producer, Sound, Photographer
Erin is a graduate of Northwestern University, where she received a Bachelor of Arts in Anthropology, International Studies and Spanish. She currently resides in Chicago, IL and is working with the Center for Cultural Interchange, a non-profit international educational exchange organization.
On Travel, People, Cultures and The World I have always had a passion for learning about other cultures and languages, due to my adventures traveling the globe with my parents throughout my childhood. I was very fortunate to have those opportunities growing up because they gave me a much more global perspective on life and sparked my interest in travel for the purpose of learning about other cultures, languages, and histories. I also feel like traveling is the best way to get to know one's self and to grow as a person. And there's so much in the world, so why not explore it? I hope to continue this pursuit of knowledge and make international travel a part of my life.
On This Project I was very excited to do this project, and not just for the travel aspect but I was eager to meet individuals who have done such amazing things with their lives. I love sharing their inspiring stories with everyone. As I prepared to embark on our journey in the summer of 2010, I was anxious to discover more about myself and find out where life will take me next. The journey did everything I had hoped for, and more.
About Angel Burns  – Our Executive Producer

A lifelong performer, Angel Burns began as a child actor, dancer and model on the east coast, in PA, NY and FL. A young contest-winner in many talent contests, she paid for college using her skills as a writer.
Ms. Burns worked in print, fashion runway, theater, cable talk/variety shows, industrial films and commercials, before moving to Los Angeles to study on-camera acting for almost a decade. Ms. Burns appeared in soaps and art films, and partnered as an indie producer of shorts and music videos. Her production company allowed experience directing, editing, and as cinematographer. Motherhood brought a sabbatical due to scheduling, and Angel added to her skill set becoming a commercial and fine art photographer, particularly of dancers, conceptual portraits and world cultures. Her work is now published internationally, appears in galleries & metropolitan exhibitions, and she teaches in traveling fine art photography workshops. Currently producing contemporary, inspirational themes, across multiple visual mediums, Angel continues to travel, shoot still and motion, work to benefit charities, and promote hope and happiness with her work.
On This Project Angel came on board in the Fall of 2010 when we met at a conference. Her energy, enthusiasm and knowing "the business" have helped make this dream of ours come alive.  She continues to inspire and motivate this team in ways I never thought possible.
About Tom Kelly – Co-Producer

Tom Kelly is a professional photographer, video producer and father to Erin Kelly.
An establishing partner of Kelly/Mooney Productions with life-long partner with Gail Mooney, Tom has produced and shot photographic and video assignments for corporations, magazines and advertising agencies worldwide.