Tag Archives: Colorado
A couple of months ago, I was one of the trip leaders for a group of high school exchange students traveling to Colorado.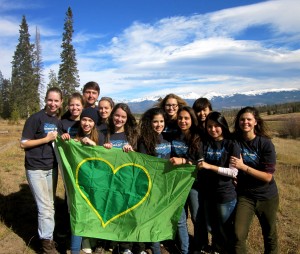 These students are here for the year and had arrived in early fall. They were placed with host families all over the country, but they had decided to go on one of the trips that CCI Greenheart, their exchange sponsor organization (and where I work), offers throughout the year. The trips are a mix of fun activities and volunteering, where they can learn about community service and meet other exchange students from around the globe. This particular trip was to Snow Mountain Ranch in Granby, CO, up in the mountains outside of Denver. And I was lucky enough to be selected as one of the people to lead the trip.
Every day was packed with activities. Each morning we would hike up into the mountains to take in the beautiful scenery, and after lunch we would do a volunteer project or other fun activity like zip lining. In the evenings, we would have workshops where we would talk about what it means to be a volunteer and how we can get involved in our communities.
One of the nights, we showed the film. This was a new experience for me, as I had not yet been present for a screening of the film to such a young audience.  I realized, as I sat there watching with the students, that this was one of our target audiences. These were the types of people that we most wanted to reach – the young people who have the energy, optimism and lives ahead of them to create their own path and make a difference in what they're passionate about. Not only that, but they were also an international audience. They represented 9 different countries, 9 different places where they could spread the messages of the film. I felt a little nervous as I waited for the film to end, anxious to hear their comments.
After the film ended, we sat in a circle and I asked some discussion questions. What traits did the subjects share? What were some of the challenges they faced and how did they overcome them? What was the role of the volunteer in some of these stories and how much did the subjects depend on them? They had some good answers, but it wasn't until I asked each of them to say two words about how the film made them feel that the best thoughts were shared. Here are some of my favorites:
"I would say ambitious and proud. I'm proud of just knowing that people in the world are doing things like that." – Yumna (Morocco)
 "It makes me feel like I have the right ideas." – Oleksandra (Ukraine)
"Thoughtful because it makes me think about it, and also have motivation and courage to start something. If people like that can do it, why can't I? I mean, anyone can do it if you have the courage." – Maxime (Switzerland)
"Kind of amazed because you don't really see that around my area and it kind of makes me think about my future and things that I can do, and I want to do something." – Lorraine (Upstate NY)
"Hopeful and unbelievable. You just live only once." – Gulzhan (Kazakhstan)
It was an honor to show the film to such a bright group of motivated people from around the world, ready to make a difference. That is what it's all about.