The last Christmas I spent with my mother was the Christmas of 2003. I didn't know that would be our last Christmas together. She died very suddenly, less than two months later. I often wonder if I had known that Christmas was to be the last one that I'd spend with my mother, if I would have asked her the questions that I always wanted to ask. One thing I do remember about that Christmas was a moment during the evening when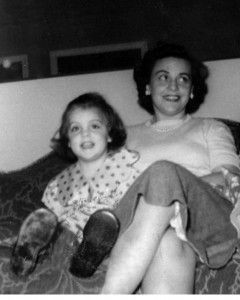 I caught a look in my mother's face that I had seen before – a distant look where I felt as if she was somewhere else.
After my mother's death, I learned a great deal about my mother – things I would have loved to have talked to her about. I was a perceptive and curious child, and there were always questions that I wanted to ask her, but I never did. I don't know why. I could say that there was "never the right time" but I've grown to hate that expression or should I say excuse. I guess I was just too afraid.
I would not have been able to take the journey around the world with my daughter Erin and make this film if it hadn't been for my mother. That's why the name of the production company is Nola Productions, Nola was my mother's name. When she died, she left me a bit of money and that helped finance Opening Our Eyes. That and airline miles, hotel points, crowd-funding and lots of help from my friends. But my mother gave me something even more important than money, that made this film happen. She gave me, belief in myself and compassion for others. If it hadn't have been for my mom, I wouldn't have had the desire to make a film that delivers the message, that we can all make a difference in how we choose to live our lives. And she always told me to believe in myself and my dreams and that anything was possible.
If you were to ask me (and many have) what was the best part of the trip – I'd would tell you that ii was spending time with my daughter. We not only explored the world together – we got to know each other as people – beyond the mother/daughter relationship. We'll both remember the amazing places we went to and the extraordinary people that we met, but I think the memories that will linger the longest will be the conversations that we had along the way. We both asked the questions that we had been wanting to ask and shared the stories that we needed to share. Ultimately we "took the time" to get to know one another.
When I tell women about this trip and what I did with my daughter – they always say one of two things – or both – "Oh I would love to do that with my daughter" or " I wish I had gotten to know my mother better". I'm grateful that I had this time with my daughter and I know my mom was with us all the way. We couldn't have done it without her.
Have a Merry Christmas everyone.
3 Responses