Tag Archives: hate
We honor Dr. Martin Luther King Jr. today.  Much has been written about King, but most of my impressions of this great man were made when I was a young teenager.  I remember many of his great speeches and his marches, but what I remember most is thinking – how could one man be so full of love amongst all the hate in the world.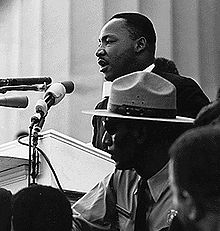 It was a tumultuous time in America, a time when the country was deeply divided by race and the Vietnam War and yet King was so full of love.
Dr. King was a gifted orator and I could fill endless pages with quotes, but I'll site a couple that stand out to me:
"I have decided to stick to love…Hate is too great a burden to bear."
And
"Forgiveness is not an occasional act, it is a constant attitude."
These both go hand in hand because if we can't forgive, whether it be the people who have hurt us or ourselves for the hurt that we've inflicted upon others, we will continue to harbor hate inside.  I agree with King that it's far better to stick to love because hate is too great a burden to bear.
It's hard to forgive.  To be able to forgive, one must come to terms with what or who has caused your heart to fill with hate or resentment.  Sometimes in our attempts to bury our pain, we try to dismiss or deny that it's there.  But that doesn't free our souls from the negative energy that hatred breeds – it only buries it deep inside us and consumes our spirit.
To "stick with love" is to recognize that humans are not perfect and when someone portrays their "ugly" side, which is generated by ego and fear that ultimately it's better to see past the ugliness and notice the good.  The funny thing about love is that when one person starts by treating another person with love instead of contempt, it gets paid forward and the love spreads.
"Hatred paralyzes life; love releases it. Hatred confuses life; love harmonizes it. Hatred darkens life; love illuminates it."
Dr. Martin Luther King Jr.