Tag Archives: love
My daughter, Erin and I started this blog, when we first embarked on our journey around the world, creating a film about individuals making positive change.  It was then, and continues to be a journey that the two of us share intimately – together as mother and daughter.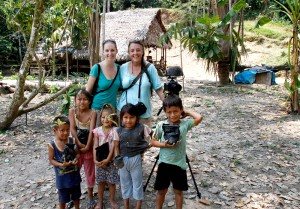 Our trip was filled with memorable experiences as we circled the globe.  Our film has been a journey for our audiences, who were motivated to "do something", inspired by individuals like Maggie Doyne who has changed the lives of thousands of children.  We formed a very strong bond through this experience, and that has become be part of our legacy.
The great news is that Erin is getting married next month, to a wonderful young man named Bryan.  My husband and I feel blessed and happy that Erin and Bryan have found one another to experience life together  – the joys and sorrows and everything in between.  And so another chapter begins in her life and ours.
As I look back, my most cherished memories are about Erin. It's usually the little moments that resonate the most – like the time she greeted me at the airport after I had been away for a long period of time. She was probably about 5 or 6 years old, and she ran up to me, arms outstretched with exuberance and joy, laughing as she called out "Mommy!" after spotting me in the crowd. I'll never forget that moment. It was pure love.
Love and relationships are what makes a life worth living.  These days, it is easy to lose sight of the simplicity of that thought, because we are all distracted by other things in the consumer culture we live in. I am grateful that Erin and I took time in our lives when we did, to make time for one another. I know that both of us were incredibly humbled by our journey and witnessing what the power of "love" could do, on a global scale.  We formed a bond and we will have that bond forever.
So I say to Erin, "Be happy on your wedding day and all the other days that you and Bryan get to spend together.  Cherish each moment.  It's what life is made up of – every precious one."
"She's from the mainland isn't she?" the woman said as she got into my friend's truck.  I laughed and she said "I knew you weren't from here when you said, "hi, I'm Gail and extended your hand" – " we don't do that here."  My good friend PF Bentley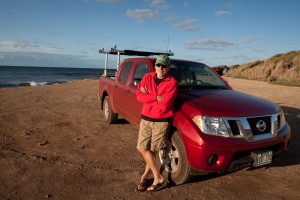 was driving me to the tiny island airport and he had stopped to pick up a couple of friends for a meeting they were going to attend after getting me on my way.
Last week, after getting an email from PF alerting me about incredible airfares to Hawaii ($425 roundtrip from Newark to Honolulu), I made an impulse decision, bought a ticket and here I was on the island of Molokai,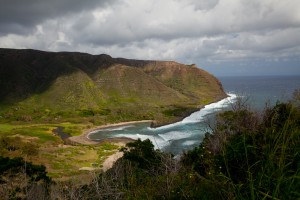 heading home after 4 days on the island. Some might say, that's an awful long way to go for such a short time and I suppose that may be true. However it was 4 days that gave me a well needed break, and more importantly a time to step back from the noise of my life and ask myself "have I gotten off purpose?"
The fact is I had gotten way off purpose over the last few months.  I had begun doing things other people wanted me to do and in the process I forgot who I was.  When that happens, everything seems to turn sour and in the process I seem to do more "pushing" my dreams out there, and getting nowhere. Instead I should do what it is I am meant to do, regardless if people accept it or understand it and then things will fall into place as they should.
Over a decade ago, PF had taught me how to tell a story and how to translate that to "film".  If it weren't for PF, our film, Opening Our Eyes would not have been possible.  Thirteen years ago, he stirred something inside of me and I went from a state of stale complacency to an awakened spirit.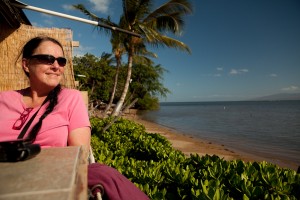 The spirit had always been inside of me, but I had begun not to listen to it.
It's been a short but glorious 4 days.  PF and his beautiful wife Amy soothed my soul with humor, color, art, wonderful food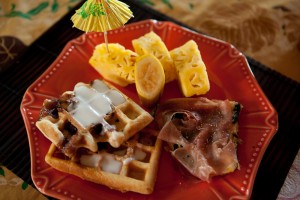 and love. Amy is one of the most creative people I have ever met and a true inspiration in many ways. She taught me the ukulele and we played and sang and laughed.  PF taught me new technical skills – color grading and mixing sound, but he also showed me his island home and once again he awakened my spirit.  Mahalo (thank you) Amy for bringing color to my life and thank you PF for once again getting my train back on track.
We honor Dr. Martin Luther King Jr. today.  Much has been written about King, but most of my impressions of this great man were made when I was a young teenager.  I remember many of his great speeches and his marches, but what I remember most is thinking – how could one man be so full of love amongst all the hate in the world.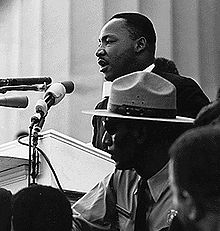 It was a tumultuous time in America, a time when the country was deeply divided by race and the Vietnam War and yet King was so full of love.
Dr. King was a gifted orator and I could fill endless pages with quotes, but I'll site a couple that stand out to me:
"I have decided to stick to love…Hate is too great a burden to bear."
And
"Forgiveness is not an occasional act, it is a constant attitude."
These both go hand in hand because if we can't forgive, whether it be the people who have hurt us or ourselves for the hurt that we've inflicted upon others, we will continue to harbor hate inside.  I agree with King that it's far better to stick to love because hate is too great a burden to bear.
It's hard to forgive.  To be able to forgive, one must come to terms with what or who has caused your heart to fill with hate or resentment.  Sometimes in our attempts to bury our pain, we try to dismiss or deny that it's there.  But that doesn't free our souls from the negative energy that hatred breeds – it only buries it deep inside us and consumes our spirit.
To "stick with love" is to recognize that humans are not perfect and when someone portrays their "ugly" side, which is generated by ego and fear that ultimately it's better to see past the ugliness and notice the good.  The funny thing about love is that when one person starts by treating another person with love instead of contempt, it gets paid forward and the love spreads.
"Hatred paralyzes life; love releases it. Hatred confuses life; love harmonizes it. Hatred darkens life; love illuminates it."
Dr. Martin Luther King Jr.
"This could be one of those rare moments in life when you can go back in your past and make things right for your future."
I was in NYC last night and I saw this sign in a shop window.  It wasn't a big sign, but nevertheless it caught my eye and stopped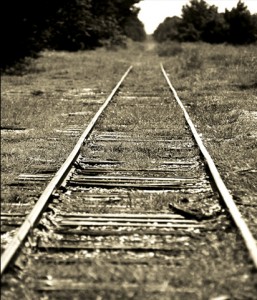 me in my tracks.  It was the second time this week that I had seen that very same phrase written.  How odd and what an uncanny coincidence to see these same words written in two totally random places, in the same week. I thought, "if only it were true".
It's not possible to change the past of course, but I started thinking about it and what I would change, if I could.  There were lots of things that came to mind immediately, that in hindsight I might have done differently.  But when I really started thinking of things that I've done in the past, in terms of what I would change to "make things right for my future", there were only a couple of changes I would make.
The fact is that even the things that I wish I could change the most, probably had to happen for one reason or another in order to have a brighter future.  We can't change the past, but we can learn from it.
One thing I love about the New Year is that it gives me a feeling of renewed hope and that we all have a fresh start to "get it right" in the coming year.  I'm not one to make grandiose resolutions because they leave me feeling like a big loser weeks later if or when I falter.  I'd rather simply focus on each new day and be the best I can be.
I am not perfect and I never will be.  I am a work in progress and each day, week, month and year I strive to be true to who I am and not let others deter me from my purpose. I will try to remember that no one can really change the past but we can let go of it.  But "letting go" is not trying to erase the past.  Attempting to do that really only harbors negative energy inside.  The very act of trying to repress or block something from your past is in fact the opposite of "letting go". To really "let go" is to be able to forgive yourself (or others) from past mistakes, and move forward in a positive way. I try to embrace each new day, and give it and everyone I know the opportunity to "make things right for the future". I can only hope that others will do the same. Imagine the power in that thought.
Be kind, be loving, and focus on the best in others – not the worst, because isn't that what you'd like others to do for you?  When you start to live life this way, you'll probably never even have the desire to want to go back and change your past.
Today is Mother's Day and it's my last weekend in China.  I've been in China for the past three weeks, teaching Chinese journalists how to think and shoot in motion.  It's been a tough time and these past three weeks seem more like three years, instead of 3 weeks. I'm missing my home, my husband, my daughter and my personal freedom.  Today, I took a well-needed day for myself – to reflect and re-energize for my final week here.
Yesterday, there was a knock on my hotel room door.  I opened it to a wet (it was raining), but smiling woman, holding a big bouquet of flowers.  Tom and Erin (my husband and daughter) found a way to get flowers delivered to me, clear across the world.  Those flowers will give me strength to get through each day this last week here in China – even as they begin to wilt.  Like a faded photo of loved ones, carried in my wallet, they will remind me of my support system in my life – my family.
My mom is no longer alive, but her spirit is always with me, especially during the hardest of times.  I wish I had told her when she was still alive, how much she buoyed my spirits and gave me strength on my lowest days – I wish I had told her more often how much I loved her.  She knew that, even when we disagreed – we connected in unspoken ways.
My daughter, Erin lives in Chicago now, ironically the city I was born in.  I had planned to take a trip out to Chicago to see her and her apartment that she moved into almost a year ago.  But that trip was canceled, along with my appearance at a screening of Opening Our Eyes at Northwestern, Erin's alma mater, due to this trip to China.
I knew that this teaching job in China was going to be difficult, I just didn't realize how difficult it would be.  To be honest, I needed the money, making a film has not only been a huge time suck, but one on my finances as well. I didn't set out to get rich off this movie – anyone can tell you that you are a fool to think you can make money by making a documentary.  I set out to make this film because I felt there were some things missing in my own life, but I also felt that "we" (human beings), especially the collective "we" in America, had gotten off course in the last 20-30 years.  We had become a "what's in it for me society" and at the same time become unhealthy and unhappy.  Our "successes" and "things" weren't making us happy. We had become frustrated and yet didn't even know why – ask any "occupiers".
In the process of making this film, I not only found my purpose in my life, but also formed an incredible bond with my daughter on our journey and made me grateful for all the things I have in my life that I had taken for granted.  Essentially, making this movie saved my life.  At the same time, I feel that I have alienated and annoyed friends by talking about it too much and promoting the festivals and awards too much.  I sense that I have oversaturated the market and yet I feel the need to stay the course of our ultimate goal of this film and that is to make a difference with this film by motivating and inspiring others as to what they can do to create a shift in our society to become less selfish and self-absorbed.  It's ironic that in doing so, I've lost friends because I've become too self-absorbed in the process.  A filmmaker I met recently told me "you never finish a film – but there comes a time when you are ready to let go".  I'm slowly getting to the point that I can let go – and give up this fight.
Perhaps it took coming to China for me to get to this point.  I thought I would have the support of my team while I was here, but in fact for the most part, I felt I was on my one.  I will admit that I'm not the easiest person to be with.  I have a strong personality and generally say what's on my mind.  On the other hand, I have an extreme sense of loyalty and my true friends know that while I may say things to their face that may be jarring at times, I'll never do things behind their backs that can undermine them. I never abandon my friends, even when they have hurt me.  In fact I often will do things I don't like because I will put myself second if it means not hurting someone else's feelings.  I have found that by living my life this way, I find out who my true friends are – I have been surprised many times by people who I thought were friends and I found out otherwise.  Even at those times, I somehow find myself giving them the benefit of the doubt and believe that after time has passed and wounds have healed from disagreements, our friendships will mend.
There is a lyric, in fact the title of a song "love the one you're with".  Last week, while struggling to get through the challenges here and missing my family, I got some well-needed support from my students.  These nine young Chinese students not only formed a bond with each other to overcome their own challenges of learning video but they became my family.  I commented that Sunday was Mother's Day and that I was missing my family.  On the last day, I walked into the classroom and saw that they had drawn a caricature of me on the whiteboard and underneath the drawing they had written "mama".  It took everything I had not to cry.  Later when I handed them their certificates of achievement I gave each and every one of them a hug.  We had formed our own family that week and we pulled each other through.  The word "mom", or "mother", or "mama" took on a greater meaning and we all felt it.
Happy Mother's Day to all the "moms" and our collective mom – "Mother Earth".
This day, that is supposedly about "love" has actually lost the meaning of that word in all the hype and commerce that has attached itself to it.   In fact, I'd have to say that this particular day does more in the way of making people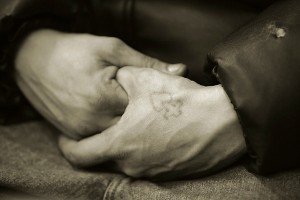 feel unloved than loved.
I suppose my feelings about Valentines Day started very early on when I was still in grade school.  Every year, no matter which school I was attending, ( I moved a lot when I was younger) the teacher would set aside some time for the students to make and trade valentines.  First we needed to make a box where our classmates could deposit their tokens of affection.  Being the creative type, I would take an ordinary shoebox and turn it into a work of art.  My classmates and I would either buy or make our valentines and then place them into each other's elaborate or not so elaborate containers.
The day would finally arrive and we would all open up our boxes and dump our valentines out onto our desks.  Sadly, most years my box contained only a handful of cards, even though I always had at least 50 kids in my classroom! That's the way it was back then. But I was the perpetual "new kid" because my family moved a lot.  And so,  that took it's toll on Valentines Day because I  usually wasn't on my classmates' radar.
I look at the day now as an adult and I see that it still causes a lot of misplaced expectations on our loved ones, and worse yet, makes some of us feel like a total unloved misfit, if we don't have a significant other or aren't on the receiving end of someone's affections.  All this angst created by a day that has turned love into commerce.
I decided to write about this today because I'm reflecting on pivotal moments in my life when I really felt true love – unconditional love.  One day in particular was the day after my daughter was born.  I held her in my arms and I felt a love that I had never known before.  I know that any parent reading this understands what I mean.  Love should always be unconditional.  We only truly "love" someone, when we love in that way – unconditionally. That only happens when we are able to think beyond ourselves.  When we love someone, regardless of what they've said or done in anger or sadness, we begin to know what love really is.  But we have to see past ourselves to get to that place.
Ronni Kahn, one of the subjects in our film said:  "Do something for the sake of doing – not for the money – not for the recognition – but just for the sake of doing".  I think she was defining what true love really is.  If we can abandon our expectations of what we want or expect in return from our loved ones – then that's when we really care about that person and really love them. It's hard to do, because you have to let go of your ego and how you feel.  But when you truly love someone, you forgive their frailties and missteps and love them for who they are.
Forget the flowers, candy and cards today.  Reach out to someone who needs some love or maybe just needs a bit of attention.  Think beyond yourself.  When you do that, you will understand the real meaning of the word "love".
I saw the movie "I Am" last night.  I had been wanting to see it for some time because someone had told me that it carried the same message as Opening Our Eyes.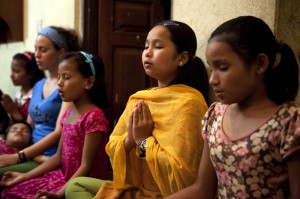 In fact, in one of the interviews in the film, a subject states numerous times the phrase "the power of one" – the power each one of us has in their actions and their thoughts.
The documentary, written and narrated by Tom Shadyac, Hollywood director known for movies like Ace Ventura and Liar Liar, questions "what's wrong with our world?" Are aggression and competition really the natural order or is there a better way? Are we happier when we win?  Are we happier when we have more?  Does it make us feel better to beat out the other guy?
The film goes on to show that what humans really need is to connect with other humans and be loved.  Everything on our planet is connected through energy and the human mind plays a powerful force in either working toward a collective goal of harmony or selfish isolation. And that each one of us has a huge impact through our small actions that make our world what it is and how we interact with one another.
No doubt many will see this film as an idealistic quest for utopia.  They'll cry  – it's an unattainable dream because there will always be the opportunists who will seize control for their own gain.  Perhaps they may be right, but does that mean that we should stop caring for our fellow man and striving for  a better future for our planet? I spent the most rewarding summer of my life last year, around people who were living a fulfilling life by making a difference in the lives of others.  They lived rich lives of peace and contentment.
Some of us go to a church, synagogue, mosque or some other place of worship for an hour or two each week and feel good doing it.  But then we spend the rest of our week, interacting with people in all sorts of ways contrary to the preachings that we had taken to heart just a few days prior.  Sometimes, I think religions do more harm than good as far as "connecting" humans, by creating congregations that are too insular at the exclusion and detriment of others. Ultimately, this never breeds good will and will never lead to utopia.
In the film, the question is asked "who is responsible for what's wrong with world?" One person replies "I am."  I can echo that and say I am responsible too.  Every little thing I do can make a difference one way or another in someone else's life. I try to remind myself of that daily in my dealings with people. I have found that when I love fully, without any expectations in return, I am at peace and only then can I be loved.
We are visiting Maggie Doyne
and her 30 children in Surkhet, Nepal.  Maggie and Erin went to high school together  in Mendham, NJ, an affluent, homogenous town in the pretty part of New Jersey, with rolling hills and an abundance of beautiful open space.  It's kind of like a little idyllic bubble and a great place to grow up.
Maggie is a world away from Mendham, but has created a very special bubble in Nepal.  After graduating from high school she opted to take a gap year instead of heading straight to college.  She traveled a bit and then volunteered in an orphanage in India.  It was there she became aware of the orphaned Nepalese children displaced by civil war.  She knew in her heart that she needed to do something for them and she did with her Blink Now Foundation.
That was about 5 years ago.  She's now 23 years old and has built a home for 30 children and is currently in the process of constructing a school.  Not just any school or a one room type of affair, but a school that stretches out into 2 wings and an eating and communal hall where all the children can gather for performances and other events.  There are four classrooms already in use and she has had to turn many local children away who wanted to attend school in this special place and recognized the importance of an education.
We've been with Maggie now for about 5 days and she never seems to stop.  When she's not overseeing the construction projects, she's teaching, running errands in town, doing laundry at the local spring and attending to the children.  Not just her 30 children that live in her home but the 200 plus children that attend her school.
In the evenings all the children in her home gather around for prayer and song – the family meeting.  The children run in age from 2 to 13 years old and it has been a joy to be with them.  Their background stories are sad and difficult to hear, but to see them now, so happy and compassionate for one another is a testament to Maggie's love.
Maggie is full of love and is passionate in her desire to see that children get the joy and happiness out of childhood that she had growing up.  These children don't have the toys and games and fancy clothes that many children in the US have.  Some days there isn't running water or electricity making it even more difficult. The children come down with illnesses that simply don't exist anymore in America but Maggie has given them a life of hope. She's making sure they get an abundance of love, the food and clothing they need and a good education.  Not the education that exists in the Nepalese government schools, that are based on rote recitation and frequent beatings when a child does something wrong, but a good education and with that a lifetime love of learning.
Each day I'm here, I'm more amazed at what Maggie has achieved and to think she is just 23 years old.  She has an amazing spirit and has transformed this community. She travels back to the US a couple times of year to speak to others about what they can do to make a positive difference in the world and in the process has inspired others to realize their dreams.
Today's a good day because today Maggie and the kids get a car. 
Up until now, she needed to either walk or ride her scooter into town to get supplies or take a sick child to the doctor or hospital.  I can't wait to see the excitement in the kids' faces when she drives up to the house.  And as soon as I'm able to upload photos – I will.  Life is a bit slower here and along with that the Internet.  But I'm not complaining – I feel blessed and at peace after spending time with Maggie and her kids.  Like Maggie says – "things happen for a reason" and "things happen when they're meant to happen". And today was the day they were meant to get their new car.