Tag Archives: excitement fear
"My Voice" and not being afraid to use it.  To be truthful, there are plenty of times that I'm afraid to exercise my voice, but I am much more fearful of the consequences if I don't.  There have been times when I have distanced friends or made colleagues step away from me because I have spoken up for what I feel is the right thing to do.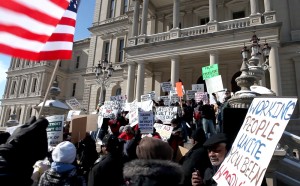 It is never easy but I would rather live in a world where I fight to give my protagonists the right to exercise their voices, rather than be quieted by them.
To be born at a time in America when all it's people had a shot at the "American Dream".  Sadly, that has changed over the last 40-50 years.  It used to be if you got an education and worked hard, you could provide for yourself and your family.  That dream has become harder and harder to achieve as the gap between the "have's" and "have not's" has widened. How much wealth and power is enough for the smallest percentage of Americans?  And why does it come at the cost of so many? I am a true patriot of this country because I still believe that we can get back to the beliefs and principles that our country's founders held true.
My health even though I pray each day that I remain healthy.  Even though I spend a small fortune for my annual health insurance premium, it comes with a very high deductible.  Because of the high deductible, it's really catastrophe insurance and in paying the rising costs of those annual premiums, I find it very hard at times to find the necessary funds to cover the out of pocket costs for preventative care.  How does that make sense in a civilized country  – that only the very wealthy or the ones lucky enough to still have benefits at work can afford to maintain their health?
My family and friends.  I have come to learn the true importance of having a family and a handful of friends that I know I can really count on to always be there for me.  We may disagree at times and even become estranged, but it's those "real" relationships that have weathered the ups and the downs and are my foundation.
That I have shelter, food and other basic human needs because so many people don't. I have traveled far and wide throughout my entire life and have seen the desperate situations that some people have to live with in all corners of the world.  But I don't have to go far anymore to see first hand, homeless people and hungry children.  It's so easy to turn a blind eye to those in need and make judgments about how those folks got to that point.  It's so easy to tell yourself that there is nothing you can do about that and that you can't possibly help all those people.  But it's really not that difficult to do even the simplest of kind acts for somebody who doesn't have as much as you.  Try it and in doing so you get so much more in return.
My vision and that I'm bold enough at times to trust it .  Sometimes, it is far too easy to follow the trends and think that is the safest route to take, but in the process you end up robbing yourself from who you really are and have to offer. Whenever, I have looked into my heart and followed my path, good things follow.  It may not happen immediately, and along the way the "misses" sometimes are more than the "hits", but I know if I stay on course, it will lead to what I am meant to do.
What are your thankful for this Thanksgiving?
I was catching up with a filmmaker friend yesterday and he told me that he was going to be working on a pro bono piece for a non-profit charity in his area.  I was delighted to hear that because it was just one small sign that maybe – just maybe this idea of "making a difference" is catching on.
To be honest, there may have been a time in my life where I would have been protective of my creative ideas to a fault – but not any more and certainly not in terms of the focus of this film.  What would be the point anyway?  First of all this film was meant to motivate others to "do something" – anything really that could make our world a better place.  And secondly – it really has no bearing on what I am doing – meaning whether or not I will succeed or fail if they do.  I realize that someone does not need to lose in order for me to win and vice versa.  In fact I'm of the mind that we are all more powerful when we partner and collaborate with one another toward the same end – especially when it comes to sustaining our planet.
It has amused me from time to time when I have seen people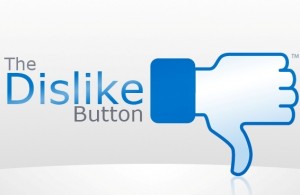 click the "unlike" or  "dislike" button on this blog or other stories that I have posted on my Facebook Fan Page. Why on earth would someone dislike a story about a 14-year-old girl's efforts in tutoring others at her school?  I wonder sometimes why someone even wants to use their energy in such a negative way and if that in fact brings them pleasure – especially when it is affixed to something that is positive.  Quite honestly I don't check analytics much because I try not to let others negativity or negative opinions of who I am or what I am doing – determine my worth. Most times it's merely a reflection of who they are or what they are dealing with in their own life. And so I do my best to understand.
But the simple fact is I'm just another human being – no better or worse than anyone else. I'm no saint – that's for sure. I'm a passionate person and that is sure to rub people the wrong way. In fact there are times when I wish I could take a vacation from myself.  I am only human, with my own frailties. While it may sometimes seem like I'm fearless and that everything always goes my way – I can assure you that there have been many sleepless nights where I lie awake playing out all kinds of scenarios in my head that are fraught with peril.
And so these days, I try to accept who I am, and be mindful of how I may affect some people and try to look for the beauty in others instead of the bad.  There have been plenty of times I may have chosen to see only the negative side of things and have hurt others in the process but that has only brought more pain in my own life. So if I come across as an obnoxious goody goody at times – it's because I try to be more compassionate of my fellow man.  Do I always succeed? No, I am not perfect.  I try to learn from past mistakes and do better the next time.
So please steal this idea  – of seeing the good in people – and try to be a better person yourself. Think beyond yourself and your own inner circle of family and friends and go out and make a positive difference in someone else's life.  Imagine if more of us thought like that?  And it just might bring more gratification in your own life  – than hitting the "dislike" button.
It wasn't at all like I imagined it would be – it was so much better.
I met singer/songwriter Jackson Browne  last night,
after seeing his concert in Montclair, NJ. The show on its own was amazing. Jackson  did an acoustic set,  his 17 guitars lined up behind him, a keyboard and a solo chair, all perfectly positioned on stage. He doesn't use a play list for  his acoustic shows – he simply picks out a guitar and plays the song that he associates with that particular instrument. It can get a bit rowdy with the audience shouting out titles for him to play, but Jackson is more free-form and picks up on the vibe of the audience. His performance last night was incredible – he sounded great and his audio mix was outstanding.
So, why am I writing about Jackson Browne and what does he have to do with Opening Our Eyes? Many of you know the answer to that question but for those who don't, I'll explain briefly. I've been a big fan of Jackson's music for over 30 years. I also admire him for his social activism and his efforts (as well as his wife Dianna Cohen) in making a difference in the world. Jackson does countless benefit concerts for various causes and Dianna is founder of the Plastic Pollution Coalition, a movement to get people away from "one use" plastic products – water bottles, shopping bags etc. So, both Jackson and Dianna personified what this film is about.
When I was struggling to find a title for the film, I was listening to Jackson's music one day while on the treadmill. One of his songs, Alive in the World really resonated with me – it was almost like it had been written for the film, but at that point in time, I was far from even envisioning this project as a film – I was still in the planning stages of the trip. There's a stanza in the song that goes:
"To open my eyes
And wake up alive in the world
To open my eyes
And finally arrive in the world"
….and I thought – "yeah, that's it – Opening Our Eyes."
I started manifesting in my mind that if Jackson became aware of our project, he would give his permission to use his song in our film. Long story short, this project has had many "angels" behind it and one very dear angel, Angel Burns – made this happen. Angel got Jackson and Dianna to watch the trailer of the film and he granted us permission to use it in the film. We can't release it (yet) on DVD with his music, but we do have permission for community screenings and film festivals with the option to "re-negotiate in good faith" if the film gets picked up for distribution. If that's not motivation to find distribution – what is?
In communicating with Jackson's assistant, I mentioned that my husband and I had tickets to his upcoming show in New Jersey in October. I relayed to her that I would love to personally thank Jackson and hand him a copy of the finished film. She wrote back saying that she would set up AS (After Show) passes for us to pick up at Will Call.
That was a couple of months ago and I've been thinking about what I would say to Jackson, ever since. I wanted to make sure I thanked him of course and I wanted to tell him how meaningful it was for me to have his beautiful song as part of our film. I also wanted to tell him that Dianna had totally changed my thinking as to how I packaged the DVD's. Rather than use a conventional "plastic" DVD case, I decided to package the DVD in simple cardboard slip jackets. And lastly, I wanted to give him a copy of a DVD I had made over ten years ago, The Delta Blues Musicians. It was basic and pretty crude because it was the first video piece that I had ever created, but I somehow knew that Jackson would appreciate. It was the stories of seven Mississippi bluesmen – all gone now but one.
So, back to last night. I was on such a high after Jackson's performance. I was feeling so full – full of life – full of love – full of everything good. We had been told at Will Call when we picked up our passes, to gather at the front of the theater and that someone would escort us backstage to meet Jackson. I saw a crowd of people gathered there, and I figured that we would be shuffled through a "meet and greet" type of thing. Then one staff guy spotted my pass and looked at me and said "Gail?" When I responded with a "yes" (after a bit of a delay – I was totally surprised that Jackson would be expecting "me") he told me "I'm John – c'mon." So, John, Tom and I and one other couple headed up the back stairs to Jackson's dressing room. John left us outside a door marked "Jackson Browne" and told us to wait a bit and that Jackson would come out in a minute.
After a few minutes, Jackson walked out the door. I hesitated, waiting until the other couple said their hellos and left, and then I introduced myself. He said, (in the nicest possible way) "so, I can't wait to see the rest of the movie" and right on cue I handed him a copy of the DVD in the awesome packaging that digital artist Allan Davey  had created. Allan is another angel who has become part of our project and that in itself has made an extraordinary difference in how this film is being received. Jackson remarked on how beautiful the packaging design and artwork was – I thanked him and handed him another copy to give to Dianna. I told him that Dianna had totally changed my thinking in terms of the packaging and had influenced my decision  NOT to use plastic DVD cases. Jackson looked at me and pointed to his arm and said "goose bumps".
There was one last thing I wanted to do and that was to give Jackson that old copy of my "blues" DVD. I told him that I should be embarrassed to give him something that was so basic and a bit crude – and that it was the first video that I ever created. I've come a long way since then – and so has technology. But I told him that I thought he would appreciate it because of the interviews that I had captured of all those old blues cats. I told Jackson that my interest in making that video, wasn't so much about the music as it was about that time and that place in America that gave birth to that music. Once again, he rubbed his arm and said "goose bumps". I know that Jackson will enjoy that video for what it is and for the stories that I captured. I told him that I had hours of interview footage of those old blues artists – and he thanked me and remarked about the importance of documenting those stories and recordings. I don't know why I thought to give Jackson that DVD, but at that moment in time, it seemed liked all the dots became connected – like everything I've been doing over the last ten years was somehow related.
I apologize for such a long post, in a way I write this for myself – so that I will remember every detail. In all the anticipation that led up to last night – I thought it would feel like the end of a chapter. But instead, all day yesterday, I had this feeling that it was really just the beginning.
Thank you Jackson and thanks to every one of our angels and supporters. We can all do this together. We can make this world what we want it to be.
I was preparing a print today to send off to the YPA for their upcoming auction and fundraiser. It was a portrait of blues drummer Sam Carr and it had recently been on exhibit in the Senate building Rotunda. The photograph was part of a personal project that I had embarked on over ten years ago: The Delta Bluesmen. The project consisted of environmental still portraits of the musicians as well as interviews of them that I had captured on video. This resulted in a short documentary and multimedia exhibition.
I thought that it would be nice to include the DVD of the documentary as part of what I was offering for auction.  While making sure that the DVD played OK, I got sucked into watching the full 20-minute piece.  It had been a long time since I had watched this film and it struck me that all but one of the seven musicians in the film had died.
At the time, I came up with the idea for that project, I really didn't know why I wanted to shoot a project on these blues musicians – I just knew that I had to.  It's not like I was a super avid blues fan.  I did love the music but I wasn't one of those fans who could recite the "who's who" in the blues world.  I was interested more in the cultural background of these men and their music. What gave birth to that music in that part of our country at that time in history?
I listened to the interviews of these men telling their stories about growing up as poor black men in the South during the 20's and 30's in America. Sam Carr talked about a time when a lot of the poor folks, up and left to get the good jobs in the North. I couldn't help but feel the irony as I listened to Sam's story and reflect back on our trip to Detroit this past winter. We were there to shoot our last and our only North American story for Opening Our Eyes. Those jobs that those poor folks headed North for – are gone. So are the neighborhoods they once called home – now just derelict ruins and vacant lots.  I wondered what the future would hold for the city of Detroit and for the growing numbers of unemployed in our country.
One thing did hit me though as I watched this film that I created so many years ago, and that that I had archived these stories for generations to come.  That made me feel good and proud and that in my own small way I had helped to preserve that legacy. That's more meaningful to me than just about anything else I can think of doing in my life. I believe that this is my purpose – to tell the stories of our time.  That's why I had to make The Delta Bluesmen – even though I had never done anything like that before.  It's the same reason that I had to do Opening Our Eyes.  It took me a lifetime to realize my purpose and I am very grateful that I am able to fulfill it.
This is out of the norm for this site, but I post this news to remind everyone to live their life each day as if it were their last. It's a reminder to us all,  to not put off those things you want to do or leave your words unsaid.
I write when I have something on my mind or feel that I have something to say and pass along.  Today, I write because I'm heartbroken.  I need to share some thoughts and then close out.
Willie " Big Eyes" Smith – legendary blues musician,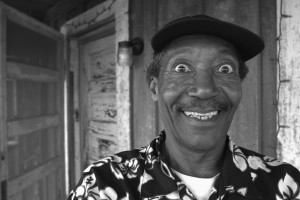 passed away – suddenly from a stroke.  He was one of the seven Delta blues musicians that I interviewed for one of my first short documentaries back in 2002, The Delta Blues Musicians.  They are all gone now – but one.
I'll always remember the day I sat down to talk to Willie.  It was relaxed and we had the most wonderful conversation, sitting on the porch of an old sharecropper shack at Hopson's Plantation in Clarksdale, MS.  I feel good that I captured his thoughts and words that day and preserved them for future generations.  I feel that my purpose in life is to do just that – to document, record and capture the peoples and cultures of our times. I feel that is what I am here to do.  When I stay on that course, I have peace inside.  When I drift from that – I don't feel right.  I think I've always known that – but nowadays I try to stay focused on that path.
Willie's passing reminds me yet again, how precious life is and to appreciate the now.  For the most part, I do live in the now.  I try to live my life as if this may be my last day on earth.  It frees me from a lot of needless fears that stops lots of people from "doing".  It reminds me to tell my people that I love them because I may not get that chance again.
We all put things off or leave things left unsaid. Seven years ago,  mom died suddenly, without warning. It seems like yesterday because the pain is still real and there is a hole left in my heart.  I remember quite clearly the week before she died.  It was a busy week and I had planned to give my mom a call because it had been awhile.  I never did get that chance – and those words will go unsaid – forever.
We lost another blues legend earlier this year, Pinetop Perkins.  Pinetop and Willie had just won a Grammy for the album "Joined at the Hip" that they worked on together.  I had been meaning to head down to the Delta next month to the Arkansas Blues and Heritage Festival – I had missed the festival last year and I wanted to hear Pinetop and Willie play. Sadly, I won't get that chance to see and hear them in concert again.  But I do have their records and I'll always have their words, both on tape and tucked away in the recesses of my mind.
We'll miss you Willie.
It just hit me this morning that we have completed this film.  I cried because I was happy, we had done it.  I cried because it was finished.  I was sad the journey was over – but is it?
Yesterday, I hand delivered the first DVD to someone in the "business" who could really help me as I face the next step – getting the film "out there".  That's the hard part – coming up with a plan to give this film legs.  What would have been the point of my daughter and I traveling all around the world, creating a film about people making a difference that could motivate others to action – if people don't see it?
I know I have a lot of hard work ahead of me, sending DVD's to film festivals, outreach directors and potential distributors.  I will be networking with everyone I know as far as making the rights connections with people who can help us get our film out there so that we can achieve what we set out to do- turn this film into a ground swell of action.
Here are some thoughts of what we'd like to do with this film.  Start thinking about people you know who could help us realize these goals.
•    Submit to film festivals to create awareness and publicity for the film.  Festivals are very competitive but I believe our film is a strong contender.  If the film is selected for a festival, then we will want to find a sponsor and make an event out of it and/or have a "premiere screening" in that city to coincide with the festival. It's a cost effective way to do a premiere and the audience is already there.
•    Have community screenings that would be "move to action" events.  This could take place in a variety of venues, from schools to churches, with the filmmakers present or not.  It could be a community fundraiser, centered on the screening of the film.  Generally, filmmakers hire outreach directors or bookers to find these venues and matches. This can be a win/win where the filmmakers have a chance to recoup their costs and the community raises money for their cause.  In our case, we can also structure it so that our subjects' causes receive a percentage.
•    Have screenings at universities.  This is something that I would love to do – show the film with a Q&A to students.  The film could really make an impact with young people who are just starting out in life.  If anyone knows people who book college activities – let me know.
•    Theatrical screenings.  This takes money.  But it can lead to rewards – including the academy awards.  My executive Angel Burns is confident we can do this.  Essentially, there needs to be theatrical bookings in LA and NYC, well publicized with mandated advertising in the NY and LA newspapers.  We may need to do another fundraiser ourselves or find a sponsor to make this happen.
•    Broadcast.  Maybe the best way to get eyeballs on it.  Anyone with contacts at OWN (Oprah's network), Oxygen or Lifetime – viable candidates for this documentary or even a TV docu reality series?  Imagine how refreshing that would be to see on TV – a series about people making a positive difference in the world – instead of watching yet again another show about the worst in human nature.
This film has had an amazing effect on our lives.  We've traveled the world, seen our name in lights on a theater marquee and met extraordinary people along the way.  In fact it seems like we are like magnets, attracting just the right people into our lives at just the right time. First of all we "found" all our amazing subjects who brought tremendous value to our lives – we learned so much from them. We found our executive producer, Angel Burns – or shall I say, she found me when I spoke in LA at a "photocine" event about creating a documentary with no money. I found the perfect editor, Erik Freeland who brought his wonderful vision to this film and made us look good, and Maria Grillo, a graphic designer in Chicago who designed our logo and overall look. I have another friend, Ally Raye who put together a great "deck" and "sizzle" for a TV pitch for me.  I can't even imagine what life was like before these people came into my life.  This film just seems to have some inexplicable power of connecting people.
If you know anyone who is good with marketing and PR, or works in broadcast or knows a sponsor who would be a perfect match and could infuse some financial support to this project, please let us know.
Like one of our subjects, Marian Kramer said, "We've got to shine each other up".