Tag Archives: responsibility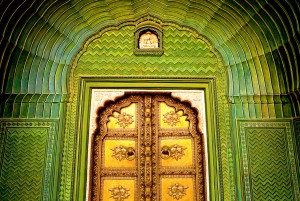 At one of the film festivals I recently attended, I had a wonderful conversation with a young filmmaker.  I told him that if I had known that I would still be involved with this film, more than 2 years after I conceived of the idea – I probably never would have started it.  He laughed and even though he was probably 20 or 30 years younger than I, he spoke from a place of wisdom beyond his years – no doubt an old soul – at least in spirit. He told me "You never really "finish" a film – you just get to a point where you are ready to let go. "
Am I ready to let go?  I ask myself that question daily.  I should be screaming an emphatic "yes" for every logical and practical reason.  It has consumed me from the very start, in every way imaginable, and on one very real level, I can and need to "let go" and move on.  But on another, much deeper level – I'm not ready to move on because this "thing" that I started so long ago, is, and always has been, more than a film.  It has become a "shift" – a shift in my point of view, my perspective, beliefs, and values. In fact it as caused a "shift" in just about every area of my life.
This film was never meant to be something that I created for fame and fortune.  Any fool knows that making a documentary is hardly a way to make money. It has been a drain financially from the beginning.  As far as fame – well I've had my moments to shine and I've had some wins but I've had far more losses and rejections that have kept me humble and I'm grateful for the recognition when it comes.  So, why is it that I'm still not quite ready to let go?  Every time I begin to feel overwhelmed by frustration and want to close the door on this "thing", I remind myself of why I started this folly.  I felt that there was an absence and longing in our culture for hope. I felt there was a need for a "shift" in attitude. I truly believe that this film and other films like it can make a difference by getting people to think.
Every time I have attended a screening of this film, I can see that for those 76 minutes that I have the attention of the audience – I really have them – I've touched them – I've gotten them to think. I'm usually buoyed by the audience's reaction and remarks and I feel hopeful that "change" can happen – change for the betterment of the planet and mankind.  There is always one person who comes up to me or writes me and tells me that I've "moved" them in some way, and they thank me for making this movie.  How do I let go of something that has the power to move people?  I don't think I can.
My goal all along has been to create a positive shift in attitude.  I can't abandon that just when it's starting to grow.  Instead, I am planning to make this website, much more than a website about the film.  My vision is that it will become a place where liked minded people can interact with one another and create a greater global shift.  I can't be the lone voice, and I don't think I have the heart to do that.  The virtual world can be a lonely world without interaction – too lonely for me. I thrive on connections and the strength that comes from them. I have a feeling that I'm not the only one that craves connectivity on some level. This website will grow slowly in that direction over the coming months.  I am working with a web guru to execute what I envision as far as making the website a "community".  I suspect that building the web interface will be the easy part of the process.  Getting people to interact and share with one another will take more doing. I'll need everyone's help on that part.  That's the only way it will work – and grow.
There have been some who have questioned the wisdom of my folly and others who've dismissed the idea entirely. There are some who tell me to move on – that the journey is over.  Literally speaking, the journey is over, in terms of the making of this movie but the journey was just the beginning as far as what this movie was meant to do.  I'm not ready to abandon that notion just yet.
Last spring, my daughter and I set out to circle the globe on a 99-day journey, seeking people who were making a difference in the world.  A little more than a year later, we have completed a feature documentary about ordinary people on six continents who have not only had a positive impact on others, but they have had life changing experiences themselves.
This journey and the film were inspired by a
young woman that my daughter had gone to high school with, Maggie Doyne,  At 19-years old, Maggie opted not to go straight off to college, but instead traveled on what was intended to be a gap year between high school and college.  Five years later, at the age of 24, she has built a home in Nepal for 35 orphaned children, where she now resides and had recently finished construction on a primary school for 250 children when we visited her last summer..
Maggie has caught the attention of quite a few high profile people who have helped her in her mission.  Last fall she appeared on the cover of the NY Times Magazine illustrating an article by Nicholas Kristof about DIY foreign aid.  She's a remarkable young woman.  But what is often overlooked when one mentions Maggie's accomplishments is that she herself, has changed her life's path – before barely beginning.
Maggie is just one of eleven people that appear in our film, Opening Our Eyes.  As we traveled the world, my daughter and I quickly realized that all of these extraordinary people had one thing in common, beyond doing good for others.  They all had disrupted their own lives and had shifted course.  They had discovered their purpose and in the process, found their bliss.
Maggie is fortunate that she made this discovery while she was still young.  In a less dramatic way, I had my own awakening early in my career.  In the late 70's, I had just finished studying photography at Brooks Institute in Santa Barbara, California and I headed back East to pursue a career as a photojournalist. It was not the best of times to be starting out as a photojournalist, at least in terms of being able to make a decent living.  So, I took a bit of a detour and pursued commercial photography instead.  While making the rounds with my portfolio in NYC, I went to see legendary photographer Jay Maisel. Jay was known for his blunt demeanor, and when he looked at my perfectly presented photographic portfolio, he tossed it at me and told me it was garbage.  He asked me if I had anything else to show him.  I took out my dog-eared photos from my first world journey that I had taken before heading to Brooks. As he looked through my "snapshots" he asked me how old I was.  I replied that I was 25 years old.  He looked me straight in the eye and said, "You're 25 and you're already making compromises?" That was a turning point in my life and I never looked back from pursuing my passion.
I suppose Maggie and I are lucky in that we discovered our purpose at such a young age.  But in making this film I learned one important thing – it's never too late to find your bliss.
I was invited recently to speak at a TEDx event in Sao Paulo, Brazil. Someone in Brazil had seen the trailer for Opening Our Eyes and wanted me to come to this event and talk about the subjects in our film.  I've been thinking about this a lot lately, and the  commonalities amongst the people in our film; they all think beyond themselves and consider how their actions will or won't affect others.  In return of course, they are all richly rewarded.
There isn't a day that I don't think about Ronni Kahn's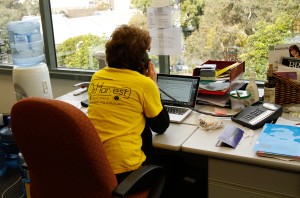 words "don't do it for the money….. or for the recognition…….do it for the sake of doing."  Every one of our subjects lives their lives this way.  At a time when the prevailing attitude seems to be "what's in it for me?" these people have put their egos aside and are "doing for the sake of doing".  That is why so many of our subjects tended to shy away from the camera and the limelight, but were eager to tell their stories in order to help their causes.
Let's face it, in a culture of "packaging and fizz", it's hard to sort through all the noise and pick out authenticity.  Even that word itself  "authenticity" has been over used and has lost its meaning. But we can all spot "the real deal" when we see it.  Just like knowing who your real friends are – you just know.
So, I think the only way to talk about the subjects of our film, in just 18 minutes, is to point out that they are no different than you or me – they are just ordinary people who think beyond themselves.  They are doing what they feel is the right thing to do and are staying close to their convictions and beliefs. They believe in the impossible and have a can do attitude. They are "walkin' the walk", not just talking. They take one step at a time in pursuing their dreams.