Tag Archives: Gail Mooney
My daughter, Erin and I started this blog, when we first embarked on our journey around the world, creating a film about individuals making positive change.  It was then, and continues to be a journey that the two of us share intimately – together as mother and daughter.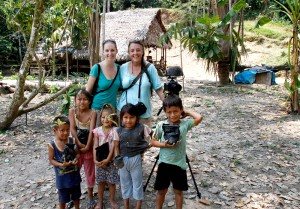 Our trip was filled with memorable experiences as we circled the globe.  Our film has been a journey for our audiences, who were motivated to "do something", inspired by individuals like Maggie Doyne who has changed the lives of thousands of children.  We formed a very strong bond through this experience, and that has become be part of our legacy.
The great news is that Erin is getting married next month, to a wonderful young man named Bryan.  My husband and I feel blessed and happy that Erin and Bryan have found one another to experience life together  – the joys and sorrows and everything in between.  And so another chapter begins in her life and ours.
As I look back, my most cherished memories are about Erin. It's usually the little moments that resonate the most – like the time she greeted me at the airport after I had been away for a long period of time. She was probably about 5 or 6 years old, and she ran up to me, arms outstretched with exuberance and joy, laughing as she called out "Mommy!" after spotting me in the crowd. I'll never forget that moment. It was pure love.
Love and relationships are what makes a life worth living.  These days, it is easy to lose sight of the simplicity of that thought, because we are all distracted by other things in the consumer culture we live in. I am grateful that Erin and I took time in our lives when we did, to make time for one another. I know that both of us were incredibly humbled by our journey and witnessing what the power of "love" could do, on a global scale.  We formed a bond and we will have that bond forever.
So I say to Erin, "Be happy on your wedding day and all the other days that you and Bryan get to spend together.  Cherish each moment.  It's what life is made up of – every precious one."
This photo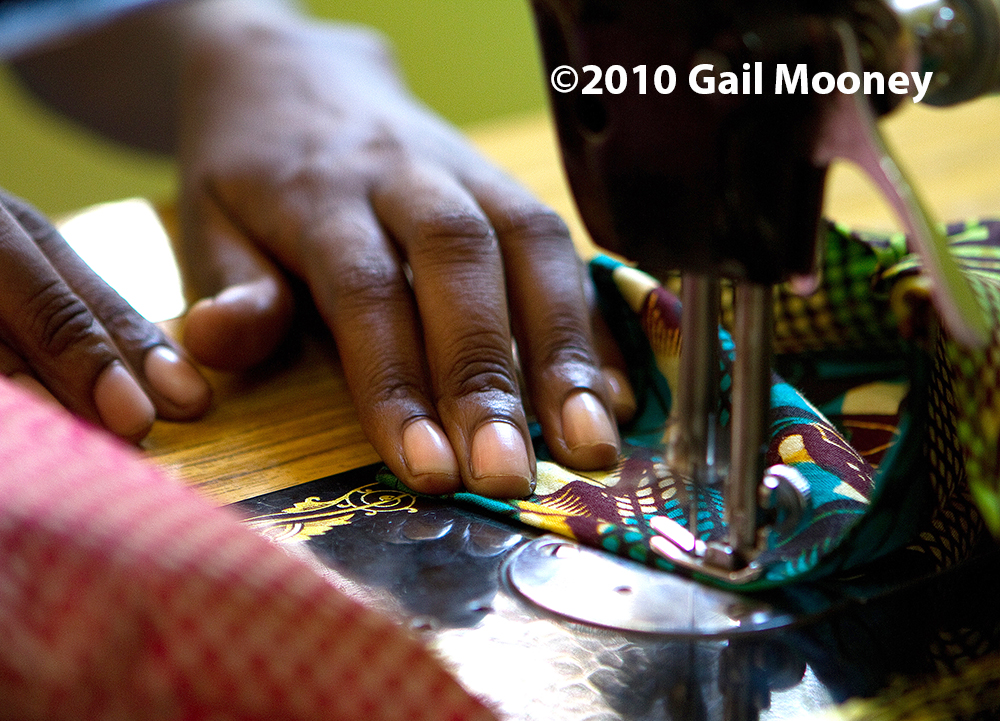 was taken when we were in Uganda, working on the segment in our film about Wrap Up Africa.  This tailor is sewing to be able to pay for her child's cancer treatments. Founder Letha Sandison established Wrap Up Africa to help aid cancer patients and their families in Uganda.  She has also created jobs for artists who design and make buckles and buttons for these garments that reach markets all around the world.  In essence she has created a foundation that can sustain itself.
The day had an ominous look to it, with a dark foreboding sky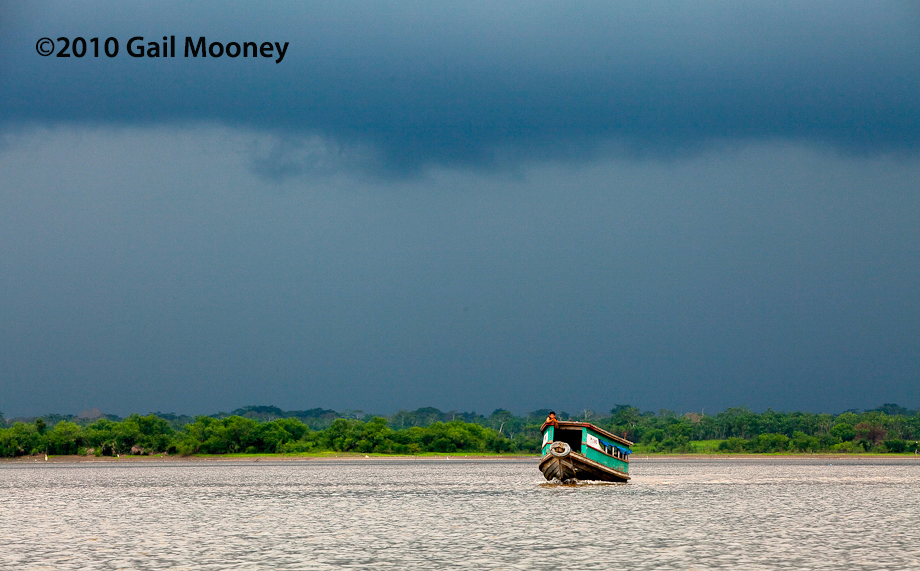 and choppy water on the great Amazon River.  Erin and I were staying at the APECA base camp upriver from the town of Belen, one of the poorest towns along the river. We were planning to go there that day, by boat – everything is done by boat – there are no roads.
Pablo, Gina Low's partner at APECA, assessed the situation and decided to go as planned, but he told us it was going to rain and to prepare for it.  The trip to Belen took about an hour if my memory serves me well.  It was open water with just a few villages along the way and aside from the sound of our motor and those of other boats off in the distance; there was an eerie silence.
When we got to Belen, the skies let loose.  Pablo quickly navigated our boat to one of the shacks along the river. We took refuge in this machine shop and watched the storm play out.  We were thankful for the cover over our heads and grateful to Pablo for knowing exactly what to do.  I think that is what continually impressed me the most about the people in our film, like Pablo.  They were all incredibly independent and resilient in difficult situations. They were people you could trust and that says a lot.
Some of our fondest memories from our journey were from our visit with Maggie Doyne and her children in Surkhet, Nepal.  All the kids were such a joy to be around.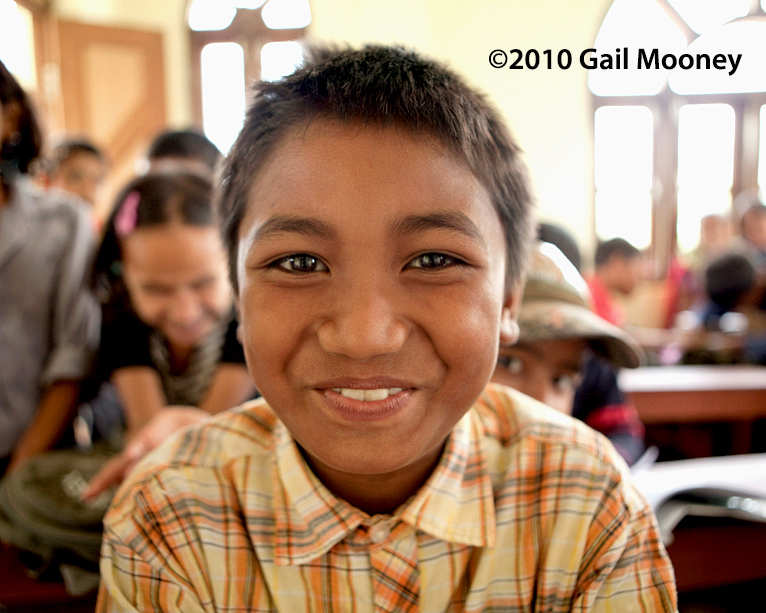 This young boy at the Kopila Valley Primary School glowed with enthusiasm.
When my daughter Erin, and I were planning our 99-day adventure around the world,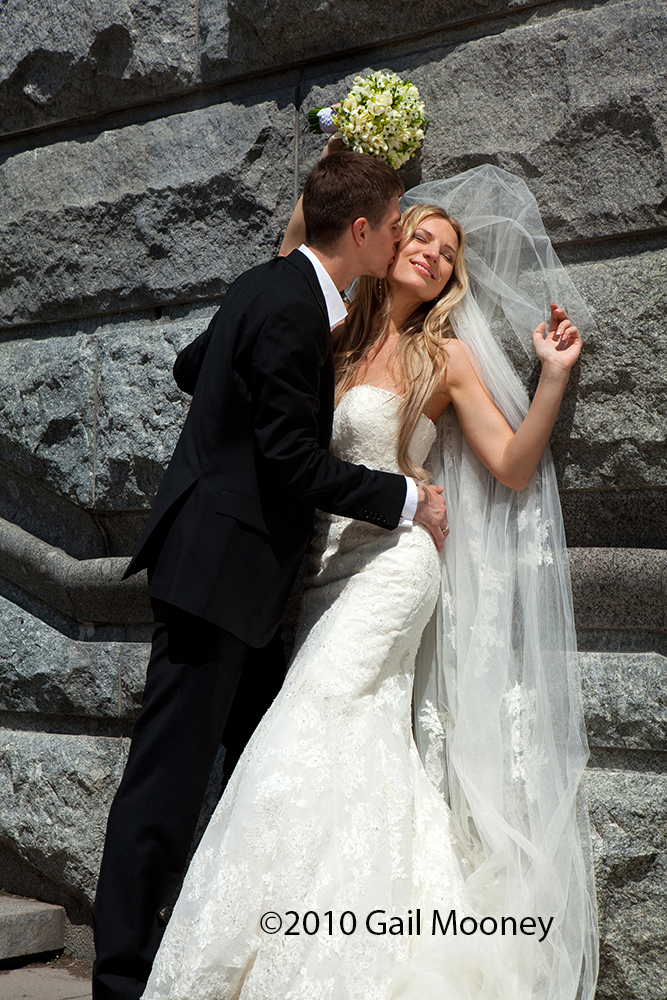 we built in some buffer time, between our scheduled times with our subjects.  We needed flexibility, in the event things didn't go perfectly according to plan, which had a high probability, considering the scope of our trip. Ultimately we had very few glitches and that buffer time gave us the opportunity to get more involved with the culture we were.  It also gave us time to shoot still images.
We spent 5 days in Moscow.  It was June and the days were long.  One Saturday, everywhere we went, there were weddings.  It was amazing because each bride and groom seemed to have his or her own style – everything from a pirate theme to pure "glam".
Click here to see other still images from our journey.
Most folks don't realize that when Erin and I went around the world in pursuit of people creating positive change – we weren't just shooting a movie – we also shot over 5000 still images.
When we planned our itinerary, traveling and shooting on six continents in the summer of 2010, we built in some  "free time" to see the sights.  It also acted as a buffer in case things didn't go according to plan.  As it happened, everything did go according to plan and we had some wonderful down time in Moscow, Istanbul, Bangkok, Melbourne and Sydney, Australia and India.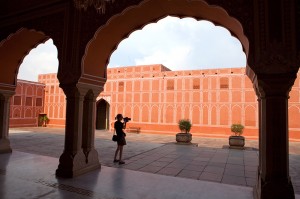 We shot still images in all of these destinations in addition to the stills that we shot on the movie set, and ended up with a nice archive.
I've been editing this archive over the last year and am going to make them available for prints.  You can see the first gallery of images, and there will be more to follow over the next few months.  A print would make a beautiful Christmas gift for someone special.  If you order before Dec. 17th – the prints will arrive before Christmas.
Happy Holiday.
It wasn't at all like I imagined it would be – it was so much better.
I met singer/songwriter Jackson Browne  last night,
after seeing his concert in Montclair, NJ. The show on its own was amazing. Jackson  did an acoustic set,  his 17 guitars lined up behind him, a keyboard and a solo chair, all perfectly positioned on stage. He doesn't use a play list for  his acoustic shows – he simply picks out a guitar and plays the song that he associates with that particular instrument. It can get a bit rowdy with the audience shouting out titles for him to play, but Jackson is more free-form and picks up on the vibe of the audience. His performance last night was incredible – he sounded great and his audio mix was outstanding.
So, why am I writing about Jackson Browne and what does he have to do with Opening Our Eyes? Many of you know the answer to that question but for those who don't, I'll explain briefly. I've been a big fan of Jackson's music for over 30 years. I also admire him for his social activism and his efforts (as well as his wife Dianna Cohen) in making a difference in the world. Jackson does countless benefit concerts for various causes and Dianna is founder of the Plastic Pollution Coalition, a movement to get people away from "one use" plastic products – water bottles, shopping bags etc. So, both Jackson and Dianna personified what this film is about.
When I was struggling to find a title for the film, I was listening to Jackson's music one day while on the treadmill. One of his songs, Alive in the World really resonated with me – it was almost like it had been written for the film, but at that point in time, I was far from even envisioning this project as a film – I was still in the planning stages of the trip. There's a stanza in the song that goes:
"To open my eyes
And wake up alive in the world
To open my eyes
And finally arrive in the world"
….and I thought – "yeah, that's it – Opening Our Eyes."
I started manifesting in my mind that if Jackson became aware of our project, he would give his permission to use his song in our film. Long story short, this project has had many "angels" behind it and one very dear angel, Angel Burns – made this happen. Angel got Jackson and Dianna to watch the trailer of the film and he granted us permission to use it in the film. We can't release it (yet) on DVD with his music, but we do have permission for community screenings and film festivals with the option to "re-negotiate in good faith" if the film gets picked up for distribution. If that's not motivation to find distribution – what is?
In communicating with Jackson's assistant, I mentioned that my husband and I had tickets to his upcoming show in New Jersey in October. I relayed to her that I would love to personally thank Jackson and hand him a copy of the finished film. She wrote back saying that she would set up AS (After Show) passes for us to pick up at Will Call.
That was a couple of months ago and I've been thinking about what I would say to Jackson, ever since. I wanted to make sure I thanked him of course and I wanted to tell him how meaningful it was for me to have his beautiful song as part of our film. I also wanted to tell him that Dianna had totally changed my thinking as to how I packaged the DVD's. Rather than use a conventional "plastic" DVD case, I decided to package the DVD in simple cardboard slip jackets. And lastly, I wanted to give him a copy of a DVD I had made over ten years ago, The Delta Blues Musicians. It was basic and pretty crude because it was the first video piece that I had ever created, but I somehow knew that Jackson would appreciate. It was the stories of seven Mississippi bluesmen – all gone now but one.
So, back to last night. I was on such a high after Jackson's performance. I was feeling so full – full of life – full of love – full of everything good. We had been told at Will Call when we picked up our passes, to gather at the front of the theater and that someone would escort us backstage to meet Jackson. I saw a crowd of people gathered there, and I figured that we would be shuffled through a "meet and greet" type of thing. Then one staff guy spotted my pass and looked at me and said "Gail?" When I responded with a "yes" (after a bit of a delay – I was totally surprised that Jackson would be expecting "me") he told me "I'm John – c'mon." So, John, Tom and I and one other couple headed up the back stairs to Jackson's dressing room. John left us outside a door marked "Jackson Browne" and told us to wait a bit and that Jackson would come out in a minute.
After a few minutes, Jackson walked out the door. I hesitated, waiting until the other couple said their hellos and left, and then I introduced myself. He said, (in the nicest possible way) "so, I can't wait to see the rest of the movie" and right on cue I handed him a copy of the DVD in the awesome packaging that digital artist Allan Davey  had created. Allan is another angel who has become part of our project and that in itself has made an extraordinary difference in how this film is being received. Jackson remarked on how beautiful the packaging design and artwork was – I thanked him and handed him another copy to give to Dianna. I told him that Dianna had totally changed my thinking in terms of the packaging and had influenced my decision  NOT to use plastic DVD cases. Jackson looked at me and pointed to his arm and said "goose bumps".
There was one last thing I wanted to do and that was to give Jackson that old copy of my "blues" DVD. I told him that I should be embarrassed to give him something that was so basic and a bit crude – and that it was the first video that I ever created. I've come a long way since then – and so has technology. But I told him that I thought he would appreciate it because of the interviews that I had captured of all those old blues cats. I told Jackson that my interest in making that video, wasn't so much about the music as it was about that time and that place in America that gave birth to that music. Once again, he rubbed his arm and said "goose bumps". I know that Jackson will enjoy that video for what it is and for the stories that I captured. I told him that I had hours of interview footage of those old blues artists – and he thanked me and remarked about the importance of documenting those stories and recordings. I don't know why I thought to give Jackson that DVD, but at that moment in time, it seemed liked all the dots became connected – like everything I've been doing over the last ten years was somehow related.
I apologize for such a long post, in a way I write this for myself – so that I will remember every detail. In all the anticipation that led up to last night – I thought it would feel like the end of a chapter. But instead, all day yesterday, I had this feeling that it was really just the beginning.
Thank you Jackson and thanks to every one of our angels and supporters. We can all do this together. We can make this world what we want it to be.