Tag Archives: movie
My daughter, Erin and I started this blog, when we first embarked on our journey around the world, creating a film about individuals making positive change.  It was then, and continues to be a journey that the two of us share intimately – together as mother and daughter.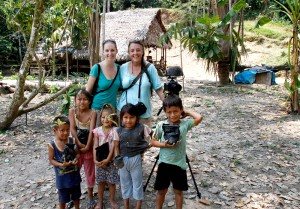 Our trip was filled with memorable experiences as we circled the globe.  Our film has been a journey for our audiences, who were motivated to "do something", inspired by individuals like Maggie Doyne who has changed the lives of thousands of children.  We formed a very strong bond through this experience, and that has become be part of our legacy.
The great news is that Erin is getting married next month, to a wonderful young man named Bryan.  My husband and I feel blessed and happy that Erin and Bryan have found one another to experience life together  – the joys and sorrows and everything in between.  And so another chapter begins in her life and ours.
As I look back, my most cherished memories are about Erin. It's usually the little moments that resonate the most – like the time she greeted me at the airport after I had been away for a long period of time. She was probably about 5 or 6 years old, and she ran up to me, arms outstretched with exuberance and joy, laughing as she called out "Mommy!" after spotting me in the crowd. I'll never forget that moment. It was pure love.
Love and relationships are what makes a life worth living.  These days, it is easy to lose sight of the simplicity of that thought, because we are all distracted by other things in the consumer culture we live in. I am grateful that Erin and I took time in our lives when we did, to make time for one another. I know that both of us were incredibly humbled by our journey and witnessing what the power of "love" could do, on a global scale.  We formed a bond and we will have that bond forever.
So I say to Erin, "Be happy on your wedding day and all the other days that you and Bryan get to spend together.  Cherish each moment.  It's what life is made up of – every precious one."
It was eight years ago today that my mom died suddenly – weeks before her 80th birthday.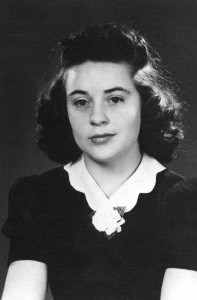 I remember every single detail of that day.
It was one of those really busy days. We were having an Oscar party that night and then flying out to California the next morning. I was walking out of the supermarket with a full cart of groceries and a bag toppled off the top, spewing its contents all over the parking lot. I picked up the mess, got in the car and was heading home when the phone rang. It was my sister telling me that they were taking my mother to the hospital. She didn't sound good at all and she hung up. I got home, called out to Tom and Erin to help me put the perishables away, and alerted them to what had happened. Fifteen minutes later, we were all in the car, heading to the hospital when my sister called again. She told me that mom had died on the way to the hospital. And I instantly thought "my unasked questions will never be answered" – questions that have been in my mind since I was a young child – questions about my mother's story – but I was always too afraid to ask.
The next few weeks were a blur – telling people about my mother's death, dealing with legalities, travel logistics and funeral arrangements. After the distractions gave way to the final realization that my mother had died – I was going through some things at her apartment. I discovered an old purse containing a bundle of letters, going back to the early 1970's and I spent the rest of the day, reading them. I was beginning to find some of the answers to the questions that I was always too fearful to ask. I also discovered a part of my family that I never knew I had.
I have gotten to know and love this family over these past eight years. For me it has been a time for discovery and has provided me with somewhat of an explanation of who I am and what drives me to do what I do. For my "new found family" – it has reconnected them to my mother and her legacy. The missing pieces were found and the circles completed on both ends.
I suppose you could say that some inexplicable force has driven me since my mother's passing. Six years after she died, I journeyed around the world with my daughter, creating a movie. We formed a bond that will last a lifetime, a bond that I had always wished I had with my mother. But I know that in many ways my mother has been a big part of my journey.
As I complete the circle of the making of this film, I'm starting to see my mother's story play out cinematically in my head – vivid in every detail. It's an amazing story that is crying out to be told and it's beginning to write itself.
Oh my, that's exactly how the idea for Opening Our Eyes got started.
It's hard to believe that it has been 25 years, today, since you were born.  My life changed that day I became your mother,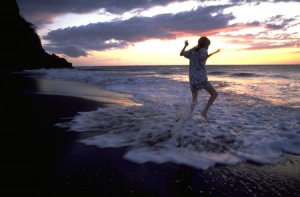 in thousands of meaningful ways.  I cannot have imagined how life would have been without you in it.
I'm sure every parent reading this understands how profoundly life changes when they become a parent – and for the good.  The biggest change for me is that I became less selfish.  I had to consider that my actions not only affected just me anymore.  Of course couples should think like that anyway if they want to have a good relationship – but it's a different type of selfless care when it comes to your child.
Today is another milestone.  It was two years ago that we started our journey together as far as this project.  We officially launched the Opening Our Eyes blog on Jan. 5, 2010.  Five months later we embarked on our travels around the world.  We not only completed the journey – we have completed a film.  A film that I hope will inspire others to do whatever small acts – or large acts – they can that can make our planet a better place.
It seems fitting that at midnight tonight our campaign on IndieGoGo is over – bringing this blog and project full circle.
I never would have imagined 25 years ago that we would have experienced such a wonderful and amazing project together.  But we did and we will have that connection for an eternity.  But to be honest, I value every other little moments in our lives that we've spent together just as priceless.
Happy Birthday
I just received some fabulous news. That is that the San Francisco Film Society

has agreed to be a fiscal sponsor for Opening Our Eyes. This is huge because it means that we can apply for grants and accept donations under their 501C umbrella. I would be remiss if I did not thank my husband, partner and best friend, Tom Kelly for filling out the application and providing the reams of necessary documents. He really came through for us and I can't thank him enough.
It's been very challenging,  raising money for film festival entries, setting up theatrical screenings and promoting the film. But what would be the point of our team's tremendous efforts in making this film if it ends up being the best kept secret?
I truly hope that this this sponsorship and 501C status will encourage individuals, institutions and corporations to donate to Opening Our Eyes so that we may realize our goal and inspire and motivate others as to what they can do to make our world a better place.
The San Francisco Film Society is one of the oldest and most respected film groups in the United States and to get this distinction is truly an honor. We have been so blessed by so many people who have believed in our project and have either contributed money, their expertise or both. I can't even begin to express how meaningful this experience has been and how it has changed my life in so many ways. Quite simply it has given me hope – at a time when there is much hopelessness and despair.
Please help us  get this film out there. If you are involved with foundations or work at corporations that give, please pass along the link to our project. You never know what may transpire and hopefully this has made things a bit easier. All donations are tax deductible.
Every one of our subjects and their causes will win if this film gets noticed globally. It is off to a good start with the trailer being seen in over 114 countries – but we have a lot of work ahead. I can do a lot of things on my own – and have – but I need everybody's help on this one.
It's not just a movie, it's a movement.
3 Ways to Donate:
Through IndieGoGo – get a reward
Through the San Francisco Film Society online
Checks: Payable to San Francisco Film Society
    Write Opening Our Eyes FSP 1378 in Memo Line
Send to:
San Francisco Film Society – ATTN: Finance Department
39 Mesa Street, Suite 110
The Presidio
San Francisco CA 94129-1025