It's hard to believe that it has been 25 years, today, since you were born.  My life changed that day I became your mother,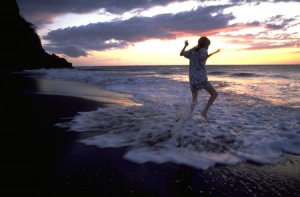 in thousands of meaningful ways.  I cannot have imagined how life would have been without you in it.
I'm sure every parent reading this understands how profoundly life changes when they become a parent – and for the good.  The biggest change for me is that I became less selfish.  I had to consider that my actions not only affected just me anymore.  Of course couples should think like that anyway if they want to have a good relationship – but it's a different type of selfless care when it comes to your child.
Today is another milestone.  It was two years ago that we started our journey together as far as this project.  We officially launched the Opening Our Eyes blog on Jan. 5, 2010.  Five months later we embarked on our travels around the world.  We not only completed the journey – we have completed a film.  A film that I hope will inspire others to do whatever small acts – or large acts – they can that can make our planet a better place.
It seems fitting that at midnight tonight our campaign on IndieGoGo is over – bringing this blog and project full circle.
I never would have imagined 25 years ago that we would have experienced such a wonderful and amazing project together.  But we did and we will have that connection for an eternity.  But to be honest, I value every other little moments in our lives that we've spent together just as priceless.
Happy Birthday
2 Responses