Tag Archives: Birthday
It's hard to believe that it has been 25 years, today, since you were born.  My life changed that day I became your mother,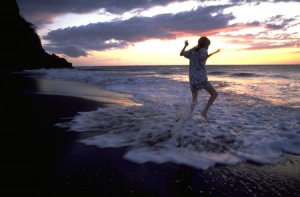 in thousands of meaningful ways.  I cannot have imagined how life would have been without you in it.
I'm sure every parent reading this understands how profoundly life changes when they become a parent – and for the good.  The biggest change for me is that I became less selfish.  I had to consider that my actions not only affected just me anymore.  Of course couples should think like that anyway if they want to have a good relationship – but it's a different type of selfless care when it comes to your child.
Today is another milestone.  It was two years ago that we started our journey together as far as this project.  We officially launched the Opening Our Eyes blog on Jan. 5, 2010.  Five months later we embarked on our travels around the world.  We not only completed the journey – we have completed a film.  A film that I hope will inspire others to do whatever small acts – or large acts – they can that can make our planet a better place.
It seems fitting that at midnight tonight our campaign on IndieGoGo is over – bringing this blog and project full circle.
I never would have imagined 25 years ago that we would have experienced such a wonderful and amazing project together.  But we did and we will have that connection for an eternity.  But to be honest, I value every other little moments in our lives that we've spent together just as priceless.
Happy Birthday
Orson Welles once said that if you want a happy ending, it depends of course on where you stop the story.
It was a year ago today that Erin and I started this blog and our journey.  It's also 24 years ago today that I gave birth to Erin.  When I got my first look at her, I remember thinking she had such long delicate fingers and big bright eyes. And I remember thinking that she looked like such a wise soul. Over the years, I'd try to imagine what experiences lay ahead in Erin's future, but I never imagined that we'd be taking a journey together around the world and creating a film.
So, today we've come full circle literally and figuratively as we complete the year.  But our journey isn't over.  We still have one (or more) stories to tell in North America. We have a couple subjects in mind but we are always open to hearing about other people who are following their passions to create change. And I am still working on the first edit of the film. It has been a long and tedious process as it always is when doing the first edit.  I need to look through 150 hours of footage and sort through, separating out the good from the bad. But first I must import the video into my editing software, name files, add metadata, sort clips and sync sound before I can even begin to build the story or stories.
I'm happy to say that I'm at the point now that I can start creating the story.  I will lay down the first rough-cut and then hand the project off to a professional editor in late January.  I have spoken with a few editors as well as composers. After the editor makes his/her cut, a musical composer will score the film. Music adds a powerful and necessary element to any film.
Today is also the day that our project expires on Kickstarter.  I am happy to say that we made our goal and in fact exceeded it. Officially, our project will be earmarked "successful" at midnight tonight so I don't want to jump the gun and celebrate quite yet.  And there's still time to make a pledge.
It's been a memorable year because of this project.  It has changed me in many ways.  There have been lows, which made the highs that much better.  Some expectations were abandoned due to things beyond my control but many dreams were realized.  Opening Our Eyes turned out to be more than just the title of this film.  It personifies the whole experience and how I look at my life going forward.
I'm looking toward late spring to complete this film. So the story isn't over – quite yet. Thank you all who have stuck by us through our journey.  Here's to a happy ending.
Happy 2011 and Happy Birthday Erin