Tag Archives: Kickstarter
I tend to be a person who is always looking ahead, rather than looking back, but sometimes you can gain a lot of perspective by looking back and that can be critical for moving forward.  Chris Guillebeau writes an annual review in his blog  The Art of Non-Conformity and he suggests we do the same.  It's a yearly assessment of how you feel your past year has been – noting both your accomplishments as well as your low points.  It helps you mentally prepare for how you want to live your life in the coming year.
Sometimes looking forward can seem overwhelming.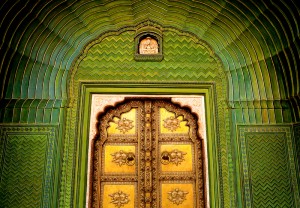 But when I look back at what I've accomplished, I get the confidence I need to move ahead. With that said, here's a recap of 2011 for Opening Our Eyes:
Completed the film – That in itself was a triumph of accomplishment, but it took its toll.  Doing the rough edit consumed most of my winter.  I needed to cull through over 150 hours of footage, transcode it, add metadata, sort out the chaff, look at the b-roll and cut down the interviews to a 3 hour timeline.  It was grueling for me – 14 hour days – 7 days a week for almost 2 months but somehow I got through it  When spring arrived I handed the entire project to my editor, Erik Freeland who did a masterful job of editing the film.  We worked together, discussing the particular stories within the film and Erik brought those stories alive with how he cut them together. The first cut of the film was finished in July.
We were extremely fortunate to have gotten permission to use one of Jackson Browne's song, Alive in the World for festival and community screenings.  Our executive producer, Angel Burns who came on board this year, made that happen – making another dream come true.  Jackson's music and his social activism has always been an inspiration to me. I was able to personally thank him after seeing him in concert this fall.
Another beautiful person came into in my life, randomly.  Her name is Joyelle Brandt, she's a singer, songwriter and an amazing artist.  Joyelle wrote a song called "One".  She wrote to me on Facebook and told me about her song and how it delivered the same message as our film and that she would be happy to let us use the song in the film.  We did – it opens up the film and it's like Joyelle wrote it specifically for the film.  We can't thank you enough,  Joyelle.
Music is such a critical component of every film  – it is the emotional component and defines the moods and the pacing of the movie. Dominic Brook a hip hop artist from Australian not only appears in the film during the Oasis story, but sets the tone with his music throughout that segment.  Dominic is a kindred spirit in wanting to make a difference. He started Musicians Making a Difference and  has helped a lot of young people find themselves through music.
We were also fortunate to have digital artist Allan Davey come into our lives and design our beautiful "one sheet" as well as our DVD packaging.  Allan's poster told the story of the film beautifully and really raised the bar as far as our "look." We could never thank him enough for his talents.
Crowdfunding – About this time last year we were winding down our Kickstarter campaign.  We had about a week to go and I remember stressing if we would reach our goal of $7500.  With Kickstarter, if you don't reach your goal – you get nothing so it was a very stressful time.  We ended up making our goal on Jan. 5, 2011.  Actually, we exceeded our goal and raised a little over $10,000.  I was able to pay my editor (who deserved much more) and give a bit to the subjects in the film.  Thanks to all our supporters we were able to finish the post production of our film, and that is huge.
We aren't doing as well with our second campaign on IndieGoGo.  We still have a few days to go but we only realized 20% of our goal.  With IndieGoGo, you get whatever you have raised, regardless if you make your goal.  Maybe, our goal was unrealistic.  Maybe it's harder to raise money for outreach, PR and distribution, but that's probably the most critical part in filmmaking – to get the film seen.  But every dollar helps us defray the costs of pushing this out there and we are very grateful to all of our continued supporters.
Apart from the crowdfunding, the San Francisco Film Society is now our fiscal sponsor, so that means that we can accept tax deductible donations via their 501c3 status. That will also allow us to be eligible for some grants.  Does anyone know a good grantwriter who would like to come onboard?
Festivals – We have been invited to the San Luis Obispo Film Festival in early March and Cal Poly is our sponsor.  I'm looking forward to the festival and hope that our whole team will be able to be there as well. I did not get into Sundance or Slamdance.  Sundance had over 11,000 submissions and will be showing only 11 documentaries.  But I have printed out my "rejection email" as a reminder that I tried.  I will proudly join the other 99% who tried but didn't make the cut.
I hope there will be more invitations.  We shall see, but regardless of festival invitations, the power of this film will be in community screenings.
Sneak Previews – My dream came true when I saw this film on the "big screen" at the State Theater in Traverse City, Michigan.  It truly was a fantasy come true, to stand there with Erin and watch as they hand placed each letter of our names on the marquee that hot July night.  What made it even more special was to watch the film in such a beautiful venue with a lot of my family and friends in the audience.  My family made that one of the most memorable days of my life.  It was a day of sharing and connecting where all the circles came together.  I've had a couple other private screenings, and some have been with Erin which is great.  It's always interesting to get live feedback.  Last month I showed the film to young Brazilians in Sao Paulo.  It was the first time that I got feedback from a non-American audience.  It was very well received and it confirmed in my mind that not only this film has a global reach, but that it really resonated with this "20 something" demographic.  That gives me great hope for the future.
Talks
I've had quite a few speaking engagements this year but I think the one that stands out is the TEDx talk I did this month in Sao Paulo, Brazil.  It was an honor to be invited and I met some amazing young Brazilians who are doing some interesting things in their lives.  They are looking at the world through a different lens and to listen to them throughout the day was incredibly energizing.
PACA – I had a great time speaking at the Picture Archive Council of America.  I talked about the making of this film with a small crew and budget.  I talked about the possibilities for distribution in this day and age.  The ASPP American Society of Picture Professionals,  sponsored my talk and they may bring this talk to their chapters in 2012.
Grateful for our followers
Without the support of our family, friends and virtual friends from all over the world – this would never have been possible.  Every time any one of you has commented or written an email – it has given us the energy and encouragement that we needed to keep going.  You have no idea how meaningful all of your comments have been. They've certainly helped me through some of the toughest times.
Going forward in 2012 – well that's a whole other blog post.  But I do know that I need to devote more time to my business.  There are so many things I wish to do and only so many hours in the day.  But it helped to sort it out in my head, and in writing this recap. I realize that even though it seems like there's so much to do – look how much we've done.
This was a remark that someone made to me after the screening of Opening Our Eyes the other evening in Seattle. It was probably the nicest thing that anyone has said to me since I've been screening this film.
Most of you who have been reading this blog know that this film was created by my daughter Erin and I during our 99 days in the field on six continents while making this movie. We had a lot of "together time" and that was the best part of the experience. Our little two-person crews was able to work on a shoe-string budget made up of airline miles, hotel rewards and trades for gear and services. and create a 76 minute documentary.
During the Q & A after the screening, one attendee asked about the financing of the film. I told her that even though the shoot part of the production was financed with airline and hotel points and trades, there were still the costs of visas, vaccinations, and all the post-productions costs of editing, sound mixing, music rights and stock footage. When all was said and done, including buying the gear, it was just under $50,000 – and that doesn't include film festival submissions, PR and marketing etc. going forward. I did raise $10,000 on Kickstarter and we are currently running a funding campaign on IndieGoGo, but where did the other money come from?
I answered her questions by telling her that when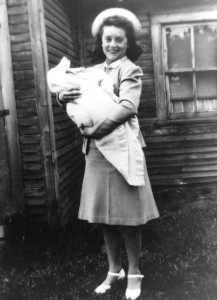 my mom died in 2004, she had left me a little money. I had never spent a penny of it until we began this project, when I set up a separate LLC, Nola Productions, named after my mother and placed my inheritance into that.
I think my mom would not only be proud of me, but also her granddaughter, my daughter, Erin. My mother always thought of others and their needs first – before she thought of her own needs. She taught me to think about how my actions could affect others. She also taught me to believe in myself and encouraged me to follow my dreams. She gave me everything I needed to accomplish this film – the courage to take action on my dreams and the means to make that happen. I think she would be proud of what I chose to do in her name.
A year ago today Erin and I boarded a plane, bound for home on our final flight of our 99-day journey around the world.  Seems like that happened in another lifetime – so much has transpired since then.
The day before we headed home, we sat down with our friend Ethan G. Salwen, who interviewed us on camera.  We are grateful for that because we were able to capture our thoughts at the time – at the end of an amazing adventure.
We had just finished our last story in Carlos Keen, Argentina – a town about an hour outside of Buenos Aires.  It was a story about Camino Abierto, a farm, a home to adolescent boys who had nowhere to call home,  and a restaurant – all filled with love.  We only spent two days there but those two days came at just the right time giving us one last burst of energy to complete the project we had started over 3 months prior.
At the time, I didn't realize that it was really just the beginning of this project in so many ways.  As Erin headed back to Chicago and settled back into her life, I immersed myself deeper into this project with hundreds of hours of footage that needed to be edited.  I managed to get through one of the toughest winters of my life that taxed every ounce of my spirit on the darkest days.  But after a round of crowd funding via Kickstarter and finding the perfect editor, Erik Freeland and many more months of post-production – we now have a film that we are proud of.
As I mailed out the "rewards" yesterday to all of our backers that supported our project, I realized once again that this project is still not yet complete.  There are film festivals to submit to and community screenings to line up and plans to make different "cuts" at various lengths for different markets.  One idea is to break up the stories for the potential of a broadcast series. I actually went out to LA this past winter and "pitched" the idea to some industry folks and a couple of people were quite interested.  I even made a new version of the trailer and renamed the show.  We shall see if anything develops along those lines.
I have been richly rewarded in so many ways on this journey. Getting to really know my daughter has been perhaps the biggest reward.  But some of the kind comments that I have received from people who have seen the film have confirmed in my mind that this quest was meant to be. I'll be sharing some of these comments with you in the coming months, on this blog that I have neglected as I've been off the radar working behind the scenes.
Here's a tidbit from our Buenos Aires Interview on the final day of our journey.  I will share more soon.  This project was meant to be shared – that is the only way to manifest the true power behind this thing that we put into motion so long ago.
After spending the last few months intensely devoted to editing both the video and still images that were shot during our journey, I can honestly say that the "trip" was by far the easiest part of this project.
I say that for many reasons.  In many ways I see the trip as a joyful journey of discovery.  It was joyful because I experienced it with my daughter. And for an entire summer we were in the presence of remarkable people
who were not only making a difference in other people's lives, but in their own lives as well. Sure, there were some tough times along the way in that round-the-world adventure, but I was living a dream.
But the ultimate goal of this project was not about the travel experience.  It was to create a film, using our talents to tell the stories of these extraordinary individuals in a meaningful way.  We can really only express the theme of "the power of one" in creating positive change in the world, by telling the story in a global way.  In the beginning of this process, the "hook" or the interest was in the trip itself, but the story is about the journey and the human spirit.
It's a daunting task to put together the pieces of a story with 150 hours of film and over 4000 images, let alone convey it in a meaningful way.  I'm finally at a point where I have gotten through all the interviews and am now intertwining those individual stories and connecting them together through the words of our subjects and our imagery to communicate that universal theme.  It's no easy feat.
There are days, when things seem to be going much more slowly than I'd like, and I try to remind myself that I can't "rush" the process – that it needs to happen at its own pace.  I have also found that even though we know the film will ultimately be so much stronger by working with a professional editor, that was made possible because of our success in raising funds via Kickstarter and that in itself comes with its own pressures. We have backers now and we've made a commitment and that is something we take very seriously.
This past week I made some major break-throughs in "seeing" how this film will come together.  I knew it would happen and it did as I listened carefully to what my subjects had to say.  In their own way, they each had expressed, how in following their own path, they were doing what they were meant to be doing in their lives.  They were being true to themselves.
Susana Esmoris at Camino Abierto in Carlos Keen, Argentina perhaps said it best when she said : "Eso es vivir intensamente, vivir intensamente.""Poner en tu vida el color que quieras, la danza que tu guste."
"Live life intensely. Live  intensely". "Wear the color that you want in life".  Dance what you want to dance."
Orson Welles once said that if you want a happy ending, it depends of course on where you stop the story.
It was a year ago today that Erin and I started this blog and our journey.  It's also 24 years ago today that I gave birth to Erin.  When I got my first look at her, I remember thinking she had such long delicate fingers and big bright eyes. And I remember thinking that she looked like such a wise soul. Over the years, I'd try to imagine what experiences lay ahead in Erin's future, but I never imagined that we'd be taking a journey together around the world and creating a film.
So, today we've come full circle literally and figuratively as we complete the year.  But our journey isn't over.  We still have one (or more) stories to tell in North America. We have a couple subjects in mind but we are always open to hearing about other people who are following their passions to create change. And I am still working on the first edit of the film. It has been a long and tedious process as it always is when doing the first edit.  I need to look through 150 hours of footage and sort through, separating out the good from the bad. But first I must import the video into my editing software, name files, add metadata, sort clips and sync sound before I can even begin to build the story or stories.
I'm happy to say that I'm at the point now that I can start creating the story.  I will lay down the first rough-cut and then hand the project off to a professional editor in late January.  I have spoken with a few editors as well as composers. After the editor makes his/her cut, a musical composer will score the film. Music adds a powerful and necessary element to any film.
Today is also the day that our project expires on Kickstarter.  I am happy to say that we made our goal and in fact exceeded it. Officially, our project will be earmarked "successful" at midnight tonight so I don't want to jump the gun and celebrate quite yet.  And there's still time to make a pledge.
It's been a memorable year because of this project.  It has changed me in many ways.  There have been lows, which made the highs that much better.  Some expectations were abandoned due to things beyond my control but many dreams were realized.  Opening Our Eyes turned out to be more than just the title of this film.  It personifies the whole experience and how I look at my life going forward.
I'm looking toward late spring to complete this film. So the story isn't over – quite yet. Thank you all who have stuck by us through our journey.  Here's to a happy ending.
Happy 2011 and Happy Birthday Erin
Like my mom, I am also thankful for many things. I'm thankful that I got to come home for Thanksgiving and see my family and friends, spending a weekend relaxing by the fire and playing board games, rather than straining my eyes staring at a computer screen 24/7. I'm thankful that I survived my first high school reunion without any deeply embarrassing moments. I'm thankful that I actually like my job and the organization that I'm working for. I'm thankful for all of the wonderful people in my life who continue to support me, which brings me to my last point – I'm thankful for everyone who has supported our project on Kickstarter. All the generosity that has been shown so far is remarkable and we truly appreciate it.
Here is our progress so far in raising funds to finish the project:
We are now in the process of editing over 150 hours of footage. My mom is poring through the footage and editing a "rough cut" of the film herself, while I am working to translate the Spanish-language transcripts from our interviews in Argentina with our subjects there – in Buenos Aires and Carlos Keen. So while we are keeping busy, we do still need help. We know that the film will be that much stronger if we hire a professional editor to do their magic and edit the "final cut." This will ultimately give our documentary a better shot at wider distribution, the potential to be seen by a larger audience, and the power to inspire and motivate other change makers.
We've got a little over a month to go to raise the remaining $2000 to reach our goal – that's only 80 people pledging $25 (the average pledge amount). But of course, any amount pledged is much appreciated! If you haven't already done so, please take a look at the ten-minute trailer on our Kickstarter page and check out the "rewards" at various pledge levels. Of course the biggest reward will be in knowing that you've helped motivate others to make a positive difference in our world through the power of this film.
Thank you so much to those who have pledged and to everyone who has followed along with us on this journey so far. We hope that you will continue to do so and share our project with others!
Hello everyone – yes, I still exist! It took me a little while to adjust to life back in Chicago, but now I can say that I finally feel settled in. It's strange when I think about our trip – it almost feels like it was a completely different life. In a way, it was: living out of a suitcase, constantly on the move, and being slapped with culture shock again and again is very different from living in one apartment and going to the same job everyday. But, for me, that's exactly what I need right now. Stability is something that I actually craved this summer. People might call me crazy but I love me some order and routine. That's not to say that there haven't been any changes.
I started a new job this month at the Center for Cultural Interchange – a nonprofit organization that facilitates cultural exchange programs for young people, mainly for high school students. I work in the Academic Year Programs department, which works with inbound foreign high school students coming to study and live in the U.S. You might think: "Wow! That job sounds perfect for you and makes so much sense, given your experience this summer." And I would reply: "You're right!" I'm very excited to be working there, and I feel fortunate that I am able to work in a field that I actually care about. I believe that it's so important for everyone to have some kind of experience abroad, especially for young people, for it is through cultural exchange that we can learn to understand and respect others and ourselves. That is certainly something that I learned this summer.
Although my job is mostly administrative, behind-the-scenes work, I got to meet some of the kids last week when a group of them visited Chicago. They were all from different countries, thus forced to use English as their common language. It struck me then that not only were they learning about life in the U.S., they were also learning about many other countries through their fellow members of the program. How cool is that? They were great kids and fascinating to talk to. I loved hearing them talk about how school in the U.S. was so different from their schools at home (aka a lot easier), what they thought of the fall season and American football games, how far off their perceptions of what the U.S. would be like were from reality. It took me back to talking with the boys on the farm in Argentina. I said to myself, this is why I am working here. I hope that there will be many more moments like that to come.
I want to thank everyone who has donated so far to our project on Kickstarter. Your donations mean so much to us, and we couldn't do this without you! I hope that those who have not so far will consider contributing as well – or at least spreading the word to everyone you know.
Thank you again, and Happy Halloween everybody!
I've got great news, Maggie Doyne the inspiration for our project and one of the subjects of our documentary is featured on the cover of the NY Times Magazine tomorrow morning. (10/24/10).
Make sure to get a copy and read about Maggie's incredible story.
Another bit of exciting news is that we just launched our project on Kickstarter. Kickstarter is a new way to fund creative ideas and ambitious endeavors. Basically it's is an example of crowdfunding where one can host their creative project on the Kickstarter's website and offer people levels at which to donate. People can pledge amounts from $1 to …….. the sky's the limit and most creators offer various rewards at the different levels.
We put our project on Kickstarter to raise finishing funds for our film. So as I continue to cull through over 150 hours of footage shot during our 99-day journey,  people can contribute to our project so that we can get the funds to hire a professional editor who will be able to take the film to a higher level. This will broaden it's chances for distribution.  We have a window of 74 days to reach our goal of $7500.  Any funds that go over the $7500 will be split 50/50 with 50% going to promotion of the film and 50% donated to all our subject's causes and foundations. If we don't meet our goal of $7500 in the next 74 days – all bets are off and we receive nothing.  That doesn't mean that the film is dead.  It just means that I will need to go it alone with the editing and it will take a little longer.
It will be exciting over the next couple of months to see what develops.  But no matter what happens, our ultimate goal for our film is for as many people  to see it as possible.  The more eyes that we open – the more we will motivate and inspire others to be change-makers and make our world a better place.
Please share our project with people that you know or on Facebook or Twitter or any other places you communicate.  We can all make this world a better place.