Tag Archives: relationships
My daughter, Erin and I started this blog, when we first embarked on our journey around the world, creating a film about individuals making positive change.  It was then, and continues to be a journey that the two of us share intimately – together as mother and daughter.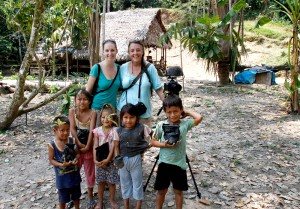 Our trip was filled with memorable experiences as we circled the globe.  Our film has been a journey for our audiences, who were motivated to "do something", inspired by individuals like Maggie Doyne who has changed the lives of thousands of children.  We formed a very strong bond through this experience, and that has become be part of our legacy.
The great news is that Erin is getting married next month, to a wonderful young man named Bryan.  My husband and I feel blessed and happy that Erin and Bryan have found one another to experience life together  – the joys and sorrows and everything in between.  And so another chapter begins in her life and ours.
As I look back, my most cherished memories are about Erin. It's usually the little moments that resonate the most – like the time she greeted me at the airport after I had been away for a long period of time. She was probably about 5 or 6 years old, and she ran up to me, arms outstretched with exuberance and joy, laughing as she called out "Mommy!" after spotting me in the crowd. I'll never forget that moment. It was pure love.
Love and relationships are what makes a life worth living.  These days, it is easy to lose sight of the simplicity of that thought, because we are all distracted by other things in the consumer culture we live in. I am grateful that Erin and I took time in our lives when we did, to make time for one another. I know that both of us were incredibly humbled by our journey and witnessing what the power of "love" could do, on a global scale.  We formed a bond and we will have that bond forever.
So I say to Erin, "Be happy on your wedding day and all the other days that you and Bryan get to spend together.  Cherish each moment.  It's what life is made up of – every precious one."
It's hard to believe that it has been 25 years, today, since you were born.  My life changed that day I became your mother,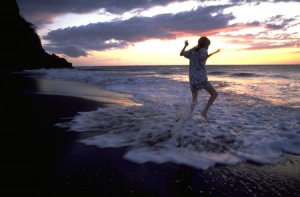 in thousands of meaningful ways.  I cannot have imagined how life would have been without you in it.
I'm sure every parent reading this understands how profoundly life changes when they become a parent – and for the good.  The biggest change for me is that I became less selfish.  I had to consider that my actions not only affected just me anymore.  Of course couples should think like that anyway if they want to have a good relationship – but it's a different type of selfless care when it comes to your child.
Today is another milestone.  It was two years ago that we started our journey together as far as this project.  We officially launched the Opening Our Eyes blog on Jan. 5, 2010.  Five months later we embarked on our travels around the world.  We not only completed the journey – we have completed a film.  A film that I hope will inspire others to do whatever small acts – or large acts – they can that can make our planet a better place.
It seems fitting that at midnight tonight our campaign on IndieGoGo is over – bringing this blog and project full circle.
I never would have imagined 25 years ago that we would have experienced such a wonderful and amazing project together.  But we did and we will have that connection for an eternity.  But to be honest, I value every other little moments in our lives that we've spent together just as priceless.
Happy Birthday