Tag Archives: Delta Bluesmen
This is out of the norm for this site, but I post this news to remind everyone to live their life each day as if it were their last. It's a reminder to us all,  to not put off those things you want to do or leave your words unsaid.
I write when I have something on my mind or feel that I have something to say and pass along.  Today, I write because I'm heartbroken.  I need to share some thoughts and then close out.
Willie " Big Eyes" Smith – legendary blues musician,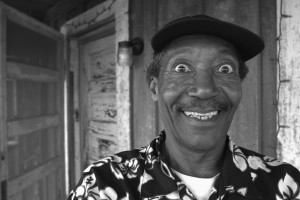 passed away – suddenly from a stroke.  He was one of the seven Delta blues musicians that I interviewed for one of my first short documentaries back in 2002, The Delta Blues Musicians.  They are all gone now – but one.
I'll always remember the day I sat down to talk to Willie.  It was relaxed and we had the most wonderful conversation, sitting on the porch of an old sharecropper shack at Hopson's Plantation in Clarksdale, MS.  I feel good that I captured his thoughts and words that day and preserved them for future generations.  I feel that my purpose in life is to do just that – to document, record and capture the peoples and cultures of our times. I feel that is what I am here to do.  When I stay on that course, I have peace inside.  When I drift from that – I don't feel right.  I think I've always known that – but nowadays I try to stay focused on that path.
Willie's passing reminds me yet again, how precious life is and to appreciate the now.  For the most part, I do live in the now.  I try to live my life as if this may be my last day on earth.  It frees me from a lot of needless fears that stops lots of people from "doing".  It reminds me to tell my people that I love them because I may not get that chance again.
We all put things off or leave things left unsaid. Seven years ago,  mom died suddenly, without warning. It seems like yesterday because the pain is still real and there is a hole left in my heart.  I remember quite clearly the week before she died.  It was a busy week and I had planned to give my mom a call because it had been awhile.  I never did get that chance – and those words will go unsaid – forever.
We lost another blues legend earlier this year, Pinetop Perkins.  Pinetop and Willie had just won a Grammy for the album "Joined at the Hip" that they worked on together.  I had been meaning to head down to the Delta next month to the Arkansas Blues and Heritage Festival – I had missed the festival last year and I wanted to hear Pinetop and Willie play. Sadly, I won't get that chance to see and hear them in concert again.  But I do have their records and I'll always have their words, both on tape and tucked away in the recesses of my mind.
We'll miss you Willie.
Trust – an essential, yet fragile ingredient of any relationship or collaboration.  I'm reminded of that as I proceed to firm up the stories and the individuals that ultimately will be the heart and soul of this project.  Essentially I am asking people to trust me to tell their story.  I know who I am and that I can be trusted but – how do I convey that to people from various cultures and sometimes through another language?
As convenient as email is for communicating with people across the globe in different time zones, it's really difficult to convey the nuances of character and personality that only a face to face  meeting can provide. Unfortunately face to face meetings when planning a project of this scope (geographically speaking) are out of the question.
I was extremely fortunate to meet with Letha Sandison who runs WrapUpAfrica in Uganda, when she was in New York City this past week. Letha and I have a mutual connection, Maggie Doyne.  Maggie comes from my town and Letha and Maggie met while both participating at the TED talks in Amsterdam.  So, I had a bit of trust going for me from the start through a personal connection. But after we spent an hour or so over coffee and talked about who we were, where we came from and what we wanted to achieve, we built trust in one another.  And that's essential for a successful and meaningful collaboration.
Many times I have been faced with trying to gain someone's trust – many times following in the footsteps of someone who had broken their trust. I faced this when I first started on another personal project The Delta Bluesmen. It didn't occur to me in my naivete that I would be perceived as another "white Yankee" who was out to take advantage of them.  It took me some time to build their trust.  I had no connections in their world that I could look to for introductions, and the only way I managed to gain their trust was by making repeated trips to the Delta.
The irony is that many times trust is broken by those who have the best intentions at heart but couldn't follow through because they had unrealistic expectations of what they were up against.  I have the wisdom at this point in my life to know that one must always have dreams but dreams can only happen with a check on reality.  I have a lot of dreams and when I'm prepared to act on them is when I put them in motion.  I'm not a quitter and I tend not to start something that I don't really feel I can follow through on.
Anyone who really knows me or who has worked with me knows they can count on me – they can trust me.  But how do I get that across in an email to someone from another culture on the other side of the world?  I did a lot of hitch hiking in my younger days – somehow immune to the very real fears that I should have had in regards to traveling that way.  I had to rely on my gut -and make a split second decision when a driver rolled down his window asking me where I was headed – should I trust them or shouldn't I? I'm certain that I'm alive today because learned to  I trust my instincts.
Trust works both ways.  For this project, I'm not only asking people to trust me to tell their story but I too need to take a leap of faith that I can trust them as well. I'm trusting them, by the very nature of the fact that I'll be traveling half way around the world using my own funds that they will come through for me.  So once again I need to rely on my gut – but how do I do that these days electronically? Not easy.  With that said, I feel good about how this project is coming together but I do need a bit of help in finding some leads in Australia and Russia.  If anyone has any personal contacts in those areas – I'd love to hear from you: gail@kellymooney.com or erinmkelly87@gmail.com.