Tag Archives: utopia
I saw the movie "I Am" last night.  I had been wanting to see it for some time because someone had told me that it carried the same message as Opening Our Eyes.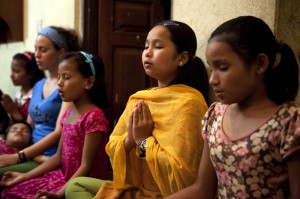 In fact, in one of the interviews in the film, a subject states numerous times the phrase "the power of one" – the power each one of us has in their actions and their thoughts.
The documentary, written and narrated by Tom Shadyac, Hollywood director known for movies like Ace Ventura and Liar Liar, questions "what's wrong with our world?" Are aggression and competition really the natural order or is there a better way? Are we happier when we win?  Are we happier when we have more?  Does it make us feel better to beat out the other guy?
The film goes on to show that what humans really need is to connect with other humans and be loved.  Everything on our planet is connected through energy and the human mind plays a powerful force in either working toward a collective goal of harmony or selfish isolation. And that each one of us has a huge impact through our small actions that make our world what it is and how we interact with one another.
No doubt many will see this film as an idealistic quest for utopia.  They'll cry  – it's an unattainable dream because there will always be the opportunists who will seize control for their own gain.  Perhaps they may be right, but does that mean that we should stop caring for our fellow man and striving for  a better future for our planet? I spent the most rewarding summer of my life last year, around people who were living a fulfilling life by making a difference in the lives of others.  They lived rich lives of peace and contentment.
Some of us go to a church, synagogue, mosque or some other place of worship for an hour or two each week and feel good doing it.  But then we spend the rest of our week, interacting with people in all sorts of ways contrary to the preachings that we had taken to heart just a few days prior.  Sometimes, I think religions do more harm than good as far as "connecting" humans, by creating congregations that are too insular at the exclusion and detriment of others. Ultimately, this never breeds good will and will never lead to utopia.
In the film, the question is asked "who is responsible for what's wrong with world?" One person replies "I am."  I can echo that and say I am responsible too.  Every little thing I do can make a difference one way or another in someone else's life. I try to remind myself of that daily in my dealings with people. I have found that when I love fully, without any expectations in return, I am at peace and only then can I be loved.