Tag Archives: website
It's been a long time coming,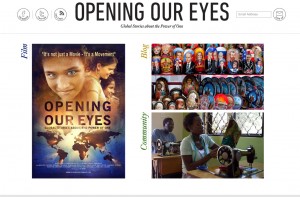 but we've finally launched the redesign of the Opening Our Eyes website – or at least phase one.  There will be a phase two which will make the site more interactive – but that will be down the road.
Here are a few cool changes that our fabulous designers have made:
•    Total redesign from the "home" page and throughout.
•    A list of upcoming screening and speaking dates.
•    More photos everywhere, including on our "subjects" page
•    Podcasts and behind the scenes videos uploaded
•    A "store" with links to our book and ePubs
•    A sign up button for news and updates
Of course the site will still contain our ongoing blog as well as the trailer for the film.
Please check out these new areas of our website and let us know what you like – or what you would like to see in the future.
In the meantime, we'll keep you posted on any future film festivals that the film has been invited to.