Tag Archives: film festivals
I have been going to a lot of film festivals this past month and we've done quite well, winning Best Documentary at the Orlando Film Festival and Festival Theme Award at the Ojai Film Festival (theme was "Enriching the Human Spirit Through Film").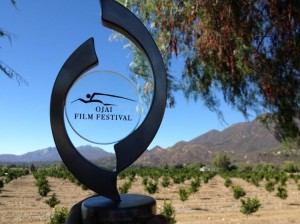 While I am truly honored that the film has done so well at festivals, I need to remind myself that I did not make this film to garner accolades.
Erin and I made this film to create awareness and inspire and motivate others, as to what they can do to make our world a better place. That will only happen if we utilize the power of film and get it seen. Whether it is seen at film festivals, broadcast or online, our goal is to reach people everywhere. Our hope is that we can create a "shift" and get people to realize the power they have as an individual in making the world – the world they want to live in.
When I talk to people in the audience at film festivals, I can see that happening.  I hear it in their questions and comments.  I see it in their eyes.  But I always wish there were more people in the audience and more audiences to show it to and I get impatient waiting for it to "grow".  I have faith that it will because I know we aren't the only ones who are thinking about the future of our planet or looking for a little "more" in their own lives.
I'm encouraged by the people in our film like Maggie Doyne, Letha Sandison and Gina Low who stay committed to their cause.  I wish there were more people like them and maybe, just maybe someone will see our film and do something because of it.  That is how I can make a difference – by using my craft to create awareness.  So, please forgive me if I post too much on Facebook or send out too many emails about upcoming festivals. The film will only have the power to make a difference – if someone sees it.
It's been a long time coming,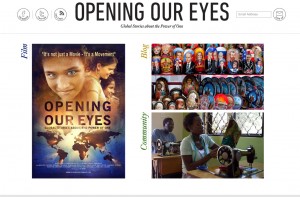 but we've finally launched the redesign of the Opening Our Eyes website – or at least phase one.  There will be a phase two which will make the site more interactive – but that will be down the road.
Here are a few cool changes that our fabulous designers have made:
•    Total redesign from the "home" page and throughout.
•    A list of upcoming screening and speaking dates.
•    More photos everywhere, including on our "subjects" page
•    Podcasts and behind the scenes videos uploaded
•    A "store" with links to our book and ePubs
•    A sign up button for news and updates
Of course the site will still contain our ongoing blog as well as the trailer for the film.
Please check out these new areas of our website and let us know what you like – or what you would like to see in the future.
In the meantime, we'll keep you posted on any future film festivals that the film has been invited to.

I've attended two film festivals to date: The San Luis Obispo Film Festival and the Los Angeles Women's Film Festival. I can't begin to describe what it feels like to have a film in a festival, especially so late in my career. As I write "late in my career" there is almost a disconnect. That may be others' perception of me but for some crazy reason, I don't feel that way at all. In fact, in many ways I feel like it's just the beginning.
"There's a time for everything" That's what Dr. David Mar Naw told Erin and I that rainy day we interviewed him in a bamboo hut in a remote hill tribe village in northern Thailand. It seems like a lifetime ago that we met Dr. David, yet it was but a year and a half ago. Had I known that this project would have consumed my time – and me – the way it did – well, let's say I might not have started it. Yet I did start it, perhaps because I felt that this was the time in my life to do something like this.
Last night the film screened in Los Angeles and it was close to a full house – a few empty seats here and there. There were a lot of friends and colleagues there last night, and even someone I hadn't seen in 30 years. And to top it off, Gina Low, one of our subjects was in attendance with lots of her family and supporters of Apeca. I hadn't seen Gina or Pablo since we left Peru in August of 2010. For me, that is the best part about festivals – sharing my film with friends – new and old. That's why I made this film – to share – not just the film but also the message behind it of what one person can do to make a difference in the world.
After our film screened, there was one last film that night – "Gloria", a movie about Gloria Steinem. The film was fascinating, a combination of present day and past interviews of Steinem along with lots of historical footage and photos. Even though Gloria has more than a decade of years ahead of me, I vividly remember that period of time in the "women's movement". I attended at least two marches that showed up in the film, as a young college aged woman of the time. That era had a profound effect on my life. I had always questioned "fairness" even as a child and when I came of age as a young woman during that time in history, I had little tolerance for people who told me I couldn't do something because I was a woman. I vividly remember feeling during that period in time, that as a woman, I had been born at just the right time. A time of change.
It's never easy to be on the forefront of change and yet it seems to be the pattern of my life. So maybe now, during this time of "change", this is my time to begin yet again another new chapter of my life. I was interviewed last night and was asked two great questions that were easy for me to answer:
The first was "What got you through it" (meaning the journey).
I answered, "The people, behind these stories, they were incredibly inspirational".
And the other question, "Did making this film change your life?"
My answer "Yes, in every way imaginable – but I knew that it would."
"Without leaps of imagination, or dreaming, we lose the excitement of possibilities. Dreaming, after all, is a form of planning." Gloria Steinem
Did the title get your attention? I'm not surprised. Aren't a lot of Americans interested in knowing where the happiest place in America is? But what about the people who live in the happiest place in America and aren't happy?  Wow – it must be awful to know that even though you live in what is deemed the "happiest place in America" –  you still aren't happy. Happiness isn't about the "where" as much as it is about the "is". What "is" right for one – "isn't" right for someone else.
Regardless, tomorrow I'm boarding a flight to a place that has been called the "happiest place on Earth", San Luis Obispo, CA. San Luis Obispo has already made me happy. Our film has been selected for the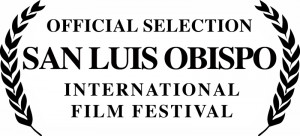 San Luis Obispo International Film Festival. I'm quite psyched about the whole thing. I admit it. It will be a first for me – having a film in a film festival. What an honor it is to bestow on a project that I have put my heart and soul into for more than two years.
It will be fun, with all sorts of festivities planned. One particular event that I am really looking forward to is the screening of Citizen Kane at the Hearst Castle! It's the first time this film will be screened at the castle and one of William Randolph Hearst's grandsons will host the evening. I am a huge "old movie" fan – always have been even as a little kid, so this is right up my alley. There will be lots of celebrities there but I will be more enamored with the historic attributes of the night – than the glam.
Festivals are definitely an ego thing. But they also bring awareness to films, which is the whole reason filmmakers make them, especially documentaries. Why make films if no one sees them? It's a great opportunity to get audience feedback too. One of our subjects, Gina Low will be there too, which is wonderful. She'll be in attendance for another festival that we have been invited to later in the month, The Los Angeles International Women's Film Festival.

It's a competitive business, getting into festivals, so I will cherish every minute of both experiences.
This is the fun part of the process of making a film, seeing it screened in a theatrical setting and dialoging with the audience. The payback, after so much hard work. I am "happily" heading out the "happiest place on Earth" and get to share the experience with my wonderful team – my daughter, my husband and my special friend Angel.
I'm already happy and I haven't even gotten there yet.
I have been thinking about how this project has taken on many different stages over the past year – and how every part of this "journey" has been so uniquely different, yet so focused toward the same vision. An idea that came to me one day when I was with a friend in a museum, blossomed into an eternal and deep bond with my daughter, an enormous amount of personal and creative growth and a film that has the ability to cause a "shift" – and make our world a better place.
It has been the "journey of a lifetime" but it's not over.  In some ways, it's just the beginning, at least in terms of it being a film. Lately,  I have been entering it into film festivals and that comes with yet another learning curve and some  strategic thinking. To be eligible for the Sundance competition for instance, the film must make its "world premiere" there – it cannot have been publicly screened prior to the Sundance festival.  It can have had private screenings for invited guests – but nothing that is open to the public in order to be considered for the competition.  That means that if we submit the film to other festivals and it's lucky enough to get in – it would be ineligible for the Sundance competition, unless the other festival was after January. But, I will continue to submit the film to various festivals and what is meant to happen – will happen.
I've also been working on a press kit, which entails everything from a "tagline", to a various length synopses to a "one sheet" or movie poster.  I've had to flip my brain into a different type of creative mode to assemble this kit.  I needed to start looking at this project through the eyes of the public.  That's tough to do with something that I am so intimate with on so many levels.  I knew I needed outside help, especially when it came to creating a movie poster.
In what seems like another lifetime, I am a contributing "stock" still photographer to various agencies that license my work. This week, there was a discussion on a listserv amongst some of the photographers of one agency, about compositing and 3D.  I put out a query to see if anyone was interested in "collaborating on a movie poster for a worthwhile project that had a meager budget" and within 5 minutes I received a phone call from a guy who is one of the best digital artists I've seen.  He had known about our project and wanted to be part of it!  I can't even begin to describe how blessed I feel – once again.
As this journey morphs from one stage to the next, I try to follow what seems to be the natural pace and rhythm of where it needs to go.  There have been highs and lows along the way and more to come I'm sure, but the seed of this idea that was planted long ago has just begun to grow.
P.S.  Almost forgot.  To all my "backers" – "rewards" will go out next week – finally!