Tag Archives: Thailand
This photograph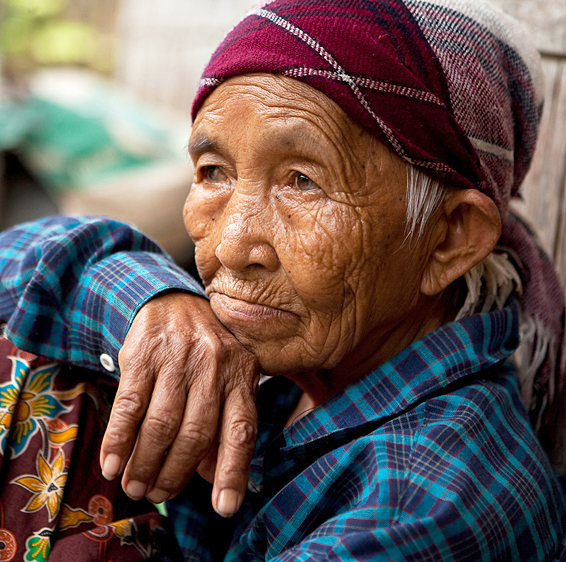 was taken when my daughter Erin and I were filming in a
small hill tribe village in the northern mountains of Thailand.  We were following Dr. David Mar Naw, as he trekked through the villages, a "one man band", dispensing medical care and building latrines for Burmese refugees.  Some of them had never seen a doctor before. This lady was waiting to have her tooth pulled.
It was painful to watch as the doctor pulled this woman's tooth, without anything to ease her pain. She was stoic and barely winced. Perhaps she was thinking about the relief she would have, after the tooth was removed.
These people humbled me, in fact I was humbled by all the people we met, along our journey around the world.  I will be forever grateful for that journey.  It opened my eyes to so many things and I am a better person because of it.
This is just one story that makes up the film, Opening Our Eyes, a documentary about the "power of one" and "making a difference" in the the world.

I've attended two film festivals to date: The San Luis Obispo Film Festival and the Los Angeles Women's Film Festival. I can't begin to describe what it feels like to have a film in a festival, especially so late in my career. As I write "late in my career" there is almost a disconnect. That may be others' perception of me but for some crazy reason, I don't feel that way at all. In fact, in many ways I feel like it's just the beginning.
"There's a time for everything" That's what Dr. David Mar Naw told Erin and I that rainy day we interviewed him in a bamboo hut in a remote hill tribe village in northern Thailand. It seems like a lifetime ago that we met Dr. David, yet it was but a year and a half ago. Had I known that this project would have consumed my time – and me – the way it did – well, let's say I might not have started it. Yet I did start it, perhaps because I felt that this was the time in my life to do something like this.
Last night the film screened in Los Angeles and it was close to a full house – a few empty seats here and there. There were a lot of friends and colleagues there last night, and even someone I hadn't seen in 30 years. And to top it off, Gina Low, one of our subjects was in attendance with lots of her family and supporters of Apeca. I hadn't seen Gina or Pablo since we left Peru in August of 2010. For me, that is the best part about festivals – sharing my film with friends – new and old. That's why I made this film – to share – not just the film but also the message behind it of what one person can do to make a difference in the world.
After our film screened, there was one last film that night – "Gloria", a movie about Gloria Steinem. The film was fascinating, a combination of present day and past interviews of Steinem along with lots of historical footage and photos. Even though Gloria has more than a decade of years ahead of me, I vividly remember that period of time in the "women's movement". I attended at least two marches that showed up in the film, as a young college aged woman of the time. That era had a profound effect on my life. I had always questioned "fairness" even as a child and when I came of age as a young woman during that time in history, I had little tolerance for people who told me I couldn't do something because I was a woman. I vividly remember feeling during that period in time, that as a woman, I had been born at just the right time. A time of change.
It's never easy to be on the forefront of change and yet it seems to be the pattern of my life. So maybe now, during this time of "change", this is my time to begin yet again another new chapter of my life. I was interviewed last night and was asked two great questions that were easy for me to answer:
The first was "What got you through it" (meaning the journey).
I answered, "The people, behind these stories, they were incredibly inspirational".
And the other question, "Did making this film change your life?"
My answer "Yes, in every way imaginable – but I knew that it would."
"Without leaps of imagination, or dreaming, we lose the excitement of possibilities. Dreaming, after all, is a form of planning." Gloria Steinem
I've been in hibernation this past month – or at least it feels like it.  No airplanes, no adventures and not much interaction with people as I tackle the tedious part of editing this film.  It's tough sometimes and a hard adjustment after the summer that I had, and there are some days, I'm just looking for a distraction.
But I keep my eye on the prize and the prize is the completed film.
Yesterday, I got news that our project was featured on the home page of More Magazine.  Jamie Niles had interviewed me a couple of weeks ago and they had gotten it online quickly.  They provided a link to our Kickstarter site and that just might be the extra little push we need to reach our goal.  We're less than $400 away with 14 days to go!  I'm sure we'll make it.
In anticipation of making that goal, I have talked to a couple of editors and will pick one who is the right fit for this story or stories.
A professional editor will give the film new eyes and see things that I may not notice and help arc the story in the most powerful way. I cannot wait till I get to that point, when all the footage is transcoded and sound is synced and ready to hand off to the pro to do what they do best – edit the story.
One thing that has been enjoyable is reliving the experience by looking at all the footage and still images that we shot.  Listening to the words of our subjects again talking about what they are doing, gave me the energy that I need to get through this part of the process.
I've also been editing the thousands of still photographs that we took.  My idea from the start of this project was to shoot both video and stills.
The still images may become part of a book or exhibition or accompany magazine articles about this story.
Happy holidays everyone.
I'll leave you with  a few of my favorite images.
Just when we think that we've found all of our people to feature, another person pops into our lives. I'm excited to announce our newest subject – Dr. David Mar Naw and his organization Where There Is Not a Doctor.
"Dr. David," as he is affectionately known, is an experienced doctor who got fed up with the corruption he found while working with an NGO that provided medical supplies to the poor hill-tribe villages in Chiang Rai, a city in northern Thailand. He decided to part ways and travel himself between the villages, providing free medical treatment to the villagers who lacked these resources, and receiving food and a place to stay in return.
Dr. David has continued these visits, and is now often accompanied by volunteers, including many medical professionals, through his program Where There Is Not a Doctor. Dr. David set up this program in order to recruit volunteers and seek donations to fund his visits to the hill-tribes and the medical supplies that he brings with him. Now, in addition to providing medical treatments, he has expanded his activities to include teaching languages and first aid, building water supplies and bridges, and many other projects to benefit the hill-tribes. There are countless ways to volunteer and aid Dr. David with his projects, and people may stay with him for a minimum of one week to up to a year.
We are currently making arrangements to visit Dr. David in Chiang Rai and shadow him during his visits to the hill-tribes. We're very excited to meet him and share his incredible story with you!