Tag Archives: change
I've been to dozens of screenings over the past year, at film festivals, schools and community gatherings around the country and everyone always asks the same thing:  "What can I do? How can I get involved?"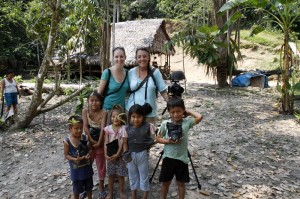 And that's exactly what Erin and I hoped for when we created the film, that people would be inspired and moved to take action.
So, we have changed the Opening Our Eyes website so that we can help answer that question instead of being a dead end.  I wanted the film to be a jumping off point for people to take action, but that would only happen if we could direct that energy into tangible ways.
We've set up a "take action" page, with three different sections on ways that you can help make a positive difference in your community or on a more global scale.  You can  "become the power of one" and find out how Maggie Doyne used her babysitting earnings to make a difference or find explore volunteer travel opportunities. You can "multiply the power of one" and donate to our subjects' causes or find out about volunteering for them or you can host a screening of the film and "showcase the power of one."
Every time I start to step away from this project, something happens to pull me back into it.  So I suppose that this journey isn't over.  I continue to be amazed by the collective power we all have in making change happen and making our world the world we want to live in.  I still remember what one of our subjects, Robbin Moulds told us one rainy day in Sydney, Australia.  She said, "At 211 degrees water is hot.  At 212 degrees it boils.  That's a one degree difference."
I challenge you all – what's a one degree difference you can make?

I've attended two film festivals to date: The San Luis Obispo Film Festival and the Los Angeles Women's Film Festival. I can't begin to describe what it feels like to have a film in a festival, especially so late in my career. As I write "late in my career" there is almost a disconnect. That may be others' perception of me but for some crazy reason, I don't feel that way at all. In fact, in many ways I feel like it's just the beginning.
"There's a time for everything" That's what Dr. David Mar Naw told Erin and I that rainy day we interviewed him in a bamboo hut in a remote hill tribe village in northern Thailand. It seems like a lifetime ago that we met Dr. David, yet it was but a year and a half ago. Had I known that this project would have consumed my time – and me – the way it did – well, let's say I might not have started it. Yet I did start it, perhaps because I felt that this was the time in my life to do something like this.
Last night the film screened in Los Angeles and it was close to a full house – a few empty seats here and there. There were a lot of friends and colleagues there last night, and even someone I hadn't seen in 30 years. And to top it off, Gina Low, one of our subjects was in attendance with lots of her family and supporters of Apeca. I hadn't seen Gina or Pablo since we left Peru in August of 2010. For me, that is the best part about festivals – sharing my film with friends – new and old. That's why I made this film – to share – not just the film but also the message behind it of what one person can do to make a difference in the world.
After our film screened, there was one last film that night – "Gloria", a movie about Gloria Steinem. The film was fascinating, a combination of present day and past interviews of Steinem along with lots of historical footage and photos. Even though Gloria has more than a decade of years ahead of me, I vividly remember that period of time in the "women's movement". I attended at least two marches that showed up in the film, as a young college aged woman of the time. That era had a profound effect on my life. I had always questioned "fairness" even as a child and when I came of age as a young woman during that time in history, I had little tolerance for people who told me I couldn't do something because I was a woman. I vividly remember feeling during that period in time, that as a woman, I had been born at just the right time. A time of change.
It's never easy to be on the forefront of change and yet it seems to be the pattern of my life. So maybe now, during this time of "change", this is my time to begin yet again another new chapter of my life. I was interviewed last night and was asked two great questions that were easy for me to answer:
The first was "What got you through it" (meaning the journey).
I answered, "The people, behind these stories, they were incredibly inspirational".
And the other question, "Did making this film change your life?"
My answer "Yes, in every way imaginable – but I knew that it would."
"Without leaps of imagination, or dreaming, we lose the excitement of possibilities. Dreaming, after all, is a form of planning." Gloria Steinem
I've had an amazing week. I've been in Sao Paulo, Brazil for the last few days to do a TEDx talk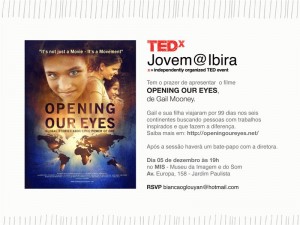 and to screen Opening Our Eyes. It has been a remarkable time, in many ways.
As I listened to the many speakers of the day, talking about what they were doing in their life and in turn affecting other people's lives, I couldn't help but feel the common bond amongst this group. They were all thinking beyond themselves and that in itself was not only energizing but gave me great hope for the future. Most of the speakers were young – and it brought me back to when I was their age, so full of hope and believing that I could change the world. I suppose I am in the minority of people of my generation, because I've managed to hold on to those beliefs. If I hadn't, I never would have embarked on this journey that I started with my daughter, almost two years ago.
Yesterday evening I screened the film for many of the same people that had attended the TEDx conference. While I may be from a different generation and cultural background – we were kindred spirits in our beliefs, and our concern for others and the planet that we live on. It was the first time that I showed the film outside the United States and even though that was part of our dream – to take this film globally – I wasn't quite sure how it would be received. But during the Q&A, I realized what I had probably known all along – that no matter how different our cultures may be in so many ways – we had the common bonds of what connects all humanity. We all need food and shelter and the obvious needs of life – but there is something more that all humans need – the need to love and be loved. The need to know that someone cares.
I think sometimes we forget that basic human desire, overcome by our drive to be successful – sometimes thinking that someone surely has to lose in order for us to win. Last night someone asked me "Has your life changed since making this film?" I've had half a dozen screenings in the US and I think this was the first time that I was asked this question. I didn't have to think much to answer the question, and I said "yes – I have changed mostly in what I place importance on in my life. The little things that used to bother me a great deal, don't seem to matter anymore in the big picture of life."
I've been thinking about that a lot this morning and I think that even though my outlook has changed, I still basically remain the same person I have always been – meaning my fundamental character. I think what has really changed is that I've recognized the person who I have always been – and stopped living the dogma that others believe in.
The funny thing is, the people who are in my life now, tell me how young and energetic I look and how happy and content I appear. I think what they see is what I am feeling on the inside. I also think that because of that, I am attracting people who are meant to be in my life. I'm no longer concerned about people who I thought I wanted or needed in my life, but might not have felt the same way. I only wish that I had learned this a long time ago. But as many of the wonderful people who appear in our film told us "there is a time for everything." Thank you to all the beautiful people in Sao Paulo who have made this a very special and memorable experience. Our hearts will remain connected even though the miles may separate us.