Tag Archives: volunteering
I've been to dozens of screenings over the past year, at film festivals, schools and community gatherings around the country and everyone always asks the same thing:  "What can I do? How can I get involved?"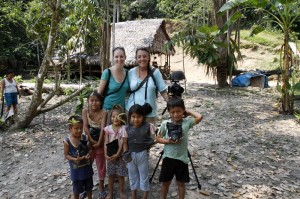 And that's exactly what Erin and I hoped for when we created the film, that people would be inspired and moved to take action.
So, we have changed the Opening Our Eyes website so that we can help answer that question instead of being a dead end.  I wanted the film to be a jumping off point for people to take action, but that would only happen if we could direct that energy into tangible ways.
We've set up a "take action" page, with three different sections on ways that you can help make a positive difference in your community or on a more global scale.  You can  "become the power of one" and find out how Maggie Doyne used her babysitting earnings to make a difference or find explore volunteer travel opportunities. You can "multiply the power of one" and donate to our subjects' causes or find out about volunteering for them or you can host a screening of the film and "showcase the power of one."
Every time I start to step away from this project, something happens to pull me back into it.  So I suppose that this journey isn't over.  I continue to be amazed by the collective power we all have in making change happen and making our world the world we want to live in.  I still remember what one of our subjects, Robbin Moulds told us one rainy day in Sydney, Australia.  She said, "At 211 degrees water is hot.  At 212 degrees it boils.  That's a one degree difference."
I challenge you all – what's a one degree difference you can make?
Over a year ago, in October 2010, just a month after we had returned from our three-month journey to make the film, I wrote a blog about my new job that I had started just a few weeks before:
"I started a new job this month at the Center for Cultural Interchange – a nonprofit organization that facilitates cultural exchange programs for young people, mainly for high school students. I work in the Academic Year Programs department, which works with inbound foreign high school students coming to study and live in the U.S. You might think: "Wow! That job sounds perfect for you and makes so much sense, given your experience this summer." And I would reply: "You're right!" I'm very excited to be working there, and I feel fortunate that I am able to work in a field that I actually care about. I believe that it's so important for everyone to have some kind of experience abroad, especially for young people, for it is through cultural exchange that we can learn to understand and respect others and ourselves. That is certainly something that I learned this summer."
If you told me the same thing now, I would reply in the exact same way. In fact, I would have even more great things to say because I have learned so much about CCI (Center for Cultural Interchange) and all of its fantastic programs over the past 15 months. In addition to the Academic Year Program, which brings hundreds of international high school students to the U.S. each year to live with host families, attend school and participate in great cultural exchanges, CCI also brings university students to work, travel and have an internship in the U.S. through the Work Programs department. The Short-Term Programs department also offers a myriad of options for young people to participate in language clubs, direct school exchanges or stay with American host families for shorter periods of time.
Just as it's important to bring international students here, so they can experience life in the U.S., it's equally important to provide those opportunities to American students and send them abroad to learn about other cultures. CCI's Greenheart Travel department provides such an opportunity, with programs for American citizens to teach abroad, volunteer abroad and attend high school abroad. Maggie Doyne is a perfect example of how someone could benefit from such a program – from her experience traveling and volunteering after high school, she was inspired to make a difference in Nepal and started the Kopila Valley Children's Home.
Volunteering and giving back to one's community is an important part of CCI's mission as well through its Greenheart initiative. CCI is known as the "Greenheart of Cultural Exchange" because each of its programs offers all of its participants grants and support to do environmental and social volunteering while abroad. CCI encourages participants to collaborate with their new host community and work on projects to make positive change in a sustainable way. These experiences not only enhance the participant's program, but also help make a difference in communities around the world.
We are very proud to announce CCI and Greenheart as a sponsor of Opening Our Eyes. We feel that their mission is perfectly aligned with the project and we look forward to future collaboration in promoting the importance of cultural exchange and how one person can make a positive difference in the world.