Tag Archives: Ronni Kahn
Another year gone by – faster than the last. It's a soft day, as I look out at a choppy sea and a sky that's an ominous blue/black, keeping the crowds away from the beach.  It's OK with me, I love this sort of weather, a welcome relief from the usual sweltering day that has defined many July 21sts over the years .  It's the kind of day, it's easy to get lost in thought and think about past birthdays.
I wish I could remember all of my birthdays, but there have been too many and too many years between them. There have been many memorable ones, that stand out in the recesses of my mind.  Here are a couple of them – in no particular order.
2005– I spent the day sitting on the edge of a cliff in
Machu Picchu, Peru with my husband and my daughter.  It was cold and rainy and yet I was so awed by the sight before me, I barely noticed the rain.  No words could ever describe the magnificence of the moment – not then or now.  It is a memory that has been indelibly burned into my mind's eye.
1962 – Going to the  "air cooled" movie theater to cool off.  We saw Mr. Hobbs Takes a Vacation – a touching, funny family story with Jimmy Stewart, Maureen O'Hara, Fabion and others that somehow made an impression on me and has stayed with me all these years.
1969 – That was a big year for me.  I had just graduated from high school and turned 18 years old that summer.  They were supposed to land on the moon for the first time on my birthday, but they were a few hours early, marking July 20th as that historic day, instead of my birthday.  I was quite annoyed, but forgot all about it a few weeks later when I went to The Atlantic City Pops Festival and then Woodstock later in August.  What a summer.
2010 –  Spending the day with Ronni Kahn of OzHarvest when Erin and I were making our journey around the world.  It was one of the most wonderful birthdays I have ever spent.  Ronni was truly inspirational and made a lasting impression on me.  Whenever, I stray off my purpose, I jump back to that day in my mind and I quickly get re-centered.
2011 – Last year's birthday and a big one in many ways.  It was one of those milestone birthdays that ends in a 0, but for me it was the day we had our first "sneak preview" of our film at the beautiful State Theatre in Traverse City, .Michigan. I will never forget the feeling when I heard the first musical notes of Alive in the World as the red velvet curtain was raised on the screen.  It was a typical hot humid day when we left the theater – in fact that day it broke 100.  We headed out to Sleeping Bear Dunes National Seashore along Lake Michigan and when we returned to town and were walking by the theater, the usher who had helped us earlier that day said "It broke 100 today – that means that movies are free all day tomorrow".  The end to a perfect day.
Chris Guillebeau wrote in his blog today "When I became an optimist after years of seeing the glass half-full, it was largely a practical choice. I just realized I was tired (literally) of putting my energy toward negative thoughts. It was draining and decapacitating. I vowed to put my energy toward positive thoughts, and ignore anything else as much as possible." I can't wait to meet Chris next week at his

World Domination Summit in Portland, OR. In fact I can't wait to meet all the people who attend this conference and think the same way Chris does.
Chris went on to say "Embrace the WOW. When someone does something interesting, appreciate it for what it is. Stop judging or discounting their achievements." That sentence really resonated with me because there are days when I feel that no matter how much I have accomplished in my career and in my life, there are people who try to marginalize my achievements.
When I start to feel frustrated by people like that, I remind myself of what Ronni Kahn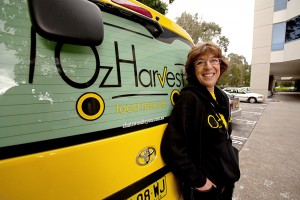 of Oz Harvest told me on a July day in Sydney, Australia "Don't do something for the recognition – do it for the sake of doing." Ronni was one of the many inspirational people my daughter Erin and I interviewed, on our trip around the world in the summer of 2010, during the making of our documentary, Opening Our Eyes.
I think back on all the travel logistics I needed to coordinate – our itinerary would have made one of the best travel agents panic – let alone figuring out how to do it using airline miles and hotel rewards. I also needed to think about the gear we would need to shoot both stills and video, that would fit into 2 backpacks. And I needed to make sure we had the necessary visas and vaccinations.
When we got back, I had over 5000 images and 150 hours of film to edit. Within two very long, bleak winter months in early 2011, I managed to lay down an initial rough cut of 3 hours of interviews. While I was doing the rough edit, I was also running a crowd funding campaign on Kickstarter to get funds to pay for a professional editor. I knew that would ultimately make all the difference in the world as far as how the film was cut – and it did.
It will be a year, next month since we screened our first "sneak preview"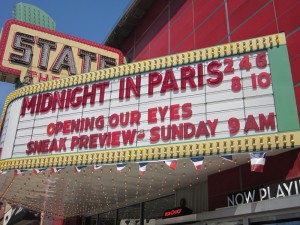 at the State Theatre in Traverse City, MI. Since that time, we've been honored at film festivals receiving awards for Best Documentary, Best Humanitarian Documentary and Best Trailer. But that stuff is for the ego and while it was sweet to receive those awards, the biggest reward for me, was the "journey" itself. I don't mean just the trip itself, but all that I learned along the way. That's the part that's hard to explain, especially to the people who seem to "judge and discount" the achievements of others.
Like Chris Guillebeau, I made a decision some years ago to put my energy toward positive thoughts, and ignore everything else as much as possible. I need to remind myself of that every day and walk away from the things and the people who don't bring value to my life. Life's too short for that. When I keep that in mind, I stay on purpose and that's when the good stuff happens.
"The highest reward for a person's toil is not what they get for it, but what they become by it." 

- John Ruskin
Today was one of those days that are memorable and just make you feel good to be alive and affirm your life's convictions.  Even though I "worked" today – on my birthday – I realized once again that my "work" has never really felt like work at all, but rather a gift.
Once again, because I am a storyteller and a visual communicator by profession and have the great fortune to have been able to make a living doing so, I had the privilege of spending the afternoon with a remarkable woman.  Her name is Ronni Kahn, CEO (Chief Energy Officer as she would say) and founder of Oz Harvest, a food rescue program in Sydney, Australia.  What Ronni does is quite simple – yet far reaching.  She has set up an organization that picks up food from events, parties, affairs etc. that would have normally been thrown away, and sends it over to various charities that feed the needy.
But one of the many remarkable things that Ronni has done was to use her connections and passion to change the law so that people and organizations who were willing to give away their perishable and left over food, could do so without fear of being sued or liable in the process of doing a good deed.  Ronni made it happen because she saw the big picture and overcame the obstacles in the way.
We spent the afternoon with Ronni, first touring around the lovely coastal areas of Sydney, then filming her inspirational interview and ended the afternoon at the beach.  One thing stuck with me that Ronni said during the interview.  She told me that many people tell her that they would love to get involved and do something along the lines that she has done but that it just wasn't the right time in their lives and then proceed to give her a variety of reasons of why they can't.  And then she said "if you want to do something – you just need to do it".  You need to stop making excuses and live in the "now".
As I write this blog entry, her words are kicking around in my head and I realize how grateful I am that I am living in the "now" and doing what I feel I need to do.  And that is the best birthday gift of all – nothing can ever top that.