Tag Archives: daughter
I was invited recently to speak at a TEDx event in Sao Paulo, Brazil. Someone in Brazil had seen the trailer for Opening Our Eyes and wanted me to come to this event and talk about the subjects in our film.  I've been thinking about this a lot lately, and the  commonalities amongst the people in our film; they all think beyond themselves and consider how their actions will or won't affect others.  In return of course, they are all richly rewarded.
There isn't a day that I don't think about Ronni Kahn's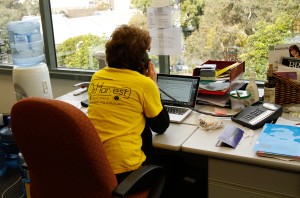 words "don't do it for the money….. or for the recognition…….do it for the sake of doing."  Every one of our subjects lives their lives this way.  At a time when the prevailing attitude seems to be "what's in it for me?" these people have put their egos aside and are "doing for the sake of doing".  That is why so many of our subjects tended to shy away from the camera and the limelight, but were eager to tell their stories in order to help their causes.
Let's face it, in a culture of "packaging and fizz", it's hard to sort through all the noise and pick out authenticity.  Even that word itself  "authenticity" has been over used and has lost its meaning. But we can all spot "the real deal" when we see it.  Just like knowing who your real friends are – you just know.
So, I think the only way to talk about the subjects of our film, in just 18 minutes, is to point out that they are no different than you or me – they are just ordinary people who think beyond themselves.  They are doing what they feel is the right thing to do and are staying close to their convictions and beliefs. They believe in the impossible and have a can do attitude. They are "walkin' the walk", not just talking. They take one step at a time in pursuing their dreams.