It's been a long time coming,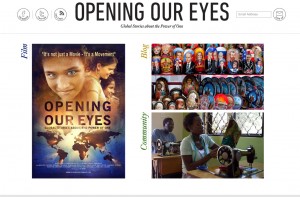 but we've finally launched the redesign of the Opening Our Eyes website – or at least phase one.  There will be a phase two which will make the site more interactive – but that will be down the road.
Here are a few cool changes that our fabulous designers have made:
•    Total redesign from the "home" page and throughout.
•    A list of upcoming screening and speaking dates.
•    More photos everywhere, including on our "subjects" page
•    Podcasts and behind the scenes videos uploaded
•    A "store" with links to our book and ePubs
•    A sign up button for news and updates
Of course the site will still contain our ongoing blog as well as the trailer for the film.
Please check out these new areas of our website and let us know what you like – or what you would like to see in the future.
In the meantime, we'll keep you posted on any future film festivals that the film has been invited to.
Today is Mother's Day and it's my last weekend in China.  I've been in China for the past three weeks, teaching Chinese journalists how to think and shoot in motion.  It's been a tough time and these past three weeks seem more like three years, instead of 3 weeks. I'm missing my home, my husband, my daughter and my personal freedom.  Today, I took a well-needed day for myself – to reflect and re-energize for my final week here.
Yesterday, there was a knock on my hotel room door.  I opened it to a wet (it was raining), but smiling woman, holding a big bouquet of flowers.  Tom and Erin (my husband and daughter) found a way to get flowers delivered to me, clear across the world.  Those flowers will give me strength to get through each day this last week here in China – even as they begin to wilt.  Like a faded photo of loved ones, carried in my wallet, they will remind me of my support system in my life – my family.
My mom is no longer alive, but her spirit is always with me, especially during the hardest of times.  I wish I had told her when she was still alive, how much she buoyed my spirits and gave me strength on my lowest days – I wish I had told her more often how much I loved her.  She knew that, even when we disagreed – we connected in unspoken ways.
My daughter, Erin lives in Chicago now, ironically the city I was born in.  I had planned to take a trip out to Chicago to see her and her apartment that she moved into almost a year ago.  But that trip was canceled, along with my appearance at a screening of Opening Our Eyes at Northwestern, Erin's alma mater, due to this trip to China.
I knew that this teaching job in China was going to be difficult, I just didn't realize how difficult it would be.  To be honest, I needed the money, making a film has not only been a huge time suck, but one on my finances as well. I didn't set out to get rich off this movie – anyone can tell you that you are a fool to think you can make money by making a documentary.  I set out to make this film because I felt there were some things missing in my own life, but I also felt that "we" (human beings), especially the collective "we" in America, had gotten off course in the last 20-30 years.  We had become a "what's in it for me society" and at the same time become unhealthy and unhappy.  Our "successes" and "things" weren't making us happy. We had become frustrated and yet didn't even know why – ask any "occupiers".
In the process of making this film, I not only found my purpose in my life, but also formed an incredible bond with my daughter on our journey and made me grateful for all the things I have in my life that I had taken for granted.  Essentially, making this movie saved my life.  At the same time, I feel that I have alienated and annoyed friends by talking about it too much and promoting the festivals and awards too much.  I sense that I have oversaturated the market and yet I feel the need to stay the course of our ultimate goal of this film and that is to make a difference with this film by motivating and inspiring others as to what they can do to create a shift in our society to become less selfish and self-absorbed.  It's ironic that in doing so, I've lost friends because I've become too self-absorbed in the process.  A filmmaker I met recently told me "you never finish a film – but there comes a time when you are ready to let go".  I'm slowly getting to the point that I can let go – and give up this fight.
Perhaps it took coming to China for me to get to this point.  I thought I would have the support of my team while I was here, but in fact for the most part, I felt I was on my one.  I will admit that I'm not the easiest person to be with.  I have a strong personality and generally say what's on my mind.  On the other hand, I have an extreme sense of loyalty and my true friends know that while I may say things to their face that may be jarring at times, I'll never do things behind their backs that can undermine them. I never abandon my friends, even when they have hurt me.  In fact I often will do things I don't like because I will put myself second if it means not hurting someone else's feelings.  I have found that by living my life this way, I find out who my true friends are – I have been surprised many times by people who I thought were friends and I found out otherwise.  Even at those times, I somehow find myself giving them the benefit of the doubt and believe that after time has passed and wounds have healed from disagreements, our friendships will mend.
There is a lyric, in fact the title of a song "love the one you're with".  Last week, while struggling to get through the challenges here and missing my family, I got some well-needed support from my students.  These nine young Chinese students not only formed a bond with each other to overcome their own challenges of learning video but they became my family.  I commented that Sunday was Mother's Day and that I was missing my family.  On the last day, I walked into the classroom and saw that they had drawn a caricature of me on the whiteboard and underneath the drawing they had written "mama".  It took everything I had not to cry.  Later when I handed them their certificates of achievement I gave each and every one of them a hug.  We had formed our own family that week and we pulled each other through.  The word "mom", or "mother", or "mama" took on a greater meaning and we all felt it.
Happy Mother's Day to all the "moms" and our collective mom – "Mother Earth".

I've attended two film festivals to date: The San Luis Obispo Film Festival and the Los Angeles Women's Film Festival. I can't begin to describe what it feels like to have a film in a festival, especially so late in my career. As I write "late in my career" there is almost a disconnect. That may be others' perception of me but for some crazy reason, I don't feel that way at all. In fact, in many ways I feel like it's just the beginning.
"There's a time for everything" That's what Dr. David Mar Naw told Erin and I that rainy day we interviewed him in a bamboo hut in a remote hill tribe village in northern Thailand. It seems like a lifetime ago that we met Dr. David, yet it was but a year and a half ago. Had I known that this project would have consumed my time – and me – the way it did – well, let's say I might not have started it. Yet I did start it, perhaps because I felt that this was the time in my life to do something like this.
Last night the film screened in Los Angeles and it was close to a full house – a few empty seats here and there. There were a lot of friends and colleagues there last night, and even someone I hadn't seen in 30 years. And to top it off, Gina Low, one of our subjects was in attendance with lots of her family and supporters of Apeca. I hadn't seen Gina or Pablo since we left Peru in August of 2010. For me, that is the best part about festivals – sharing my film with friends – new and old. That's why I made this film – to share – not just the film but also the message behind it of what one person can do to make a difference in the world.
After our film screened, there was one last film that night – "Gloria", a movie about Gloria Steinem. The film was fascinating, a combination of present day and past interviews of Steinem along with lots of historical footage and photos. Even though Gloria has more than a decade of years ahead of me, I vividly remember that period of time in the "women's movement". I attended at least two marches that showed up in the film, as a young college aged woman of the time. That era had a profound effect on my life. I had always questioned "fairness" even as a child and when I came of age as a young woman during that time in history, I had little tolerance for people who told me I couldn't do something because I was a woman. I vividly remember feeling during that period in time, that as a woman, I had been born at just the right time. A time of change.
It's never easy to be on the forefront of change and yet it seems to be the pattern of my life. So maybe now, during this time of "change", this is my time to begin yet again another new chapter of my life. I was interviewed last night and was asked two great questions that were easy for me to answer:
The first was "What got you through it" (meaning the journey).
I answered, "The people, behind these stories, they were incredibly inspirational".
And the other question, "Did making this film change your life?"
My answer "Yes, in every way imaginable – but I knew that it would."
"Without leaps of imagination, or dreaming, we lose the excitement of possibilities. Dreaming, after all, is a form of planning." Gloria Steinem
This morning is one of those mornings that I can't seem to get focused.  My mind is spinning in a hundred different directions.  There have been too many times in my life when I've woken early, not able to sleep because my mind is too active. I've learned to "manage" my active mind with meditation, so that I can "turn off", but I haven't quite mastered managing my dreams and last night they were vivid, making my mind a virtual circus this morning.
I'm headed to the West Coast this week to attend another festival that our film has been selected by, The Los Angeles Women's International Film Festival.  I'm looking forward to this festival for a couple of reasons.  For starters, Opening Our Eyes will be one of the "featured" films, but perhaps more importantly, it will be a unique experience for me to be part of a festival that is dedicated to women filmmakers.  I've spent the better part of my professional life in a man's world.  Still do to some extent, so it will be a treat to speak with other women who are doing similar things that I am.
When I was at the SLO Film Festival last week, I had the opportunity to see an absolutely wonderful documentary called "Who Does She Think She Is?"  The film follows a number of contemporary females artists who were working in film, visual arts, and music.
These were women of different ages, races, geographic locations who were all working in the "arts" and struggling to "get noticed" in the "top" echelons of their prospective fields, which were predominantly male.
They were also struggling to find a balance between their passions (their art) – and their families and personal life. I think most women, regardless if they are working in the arts, can relate to the constant struggle of balancing what they give of themselves to their family – and to what is calling out to them, inside.
The film brought out something very interesting –  in ancient times the arts were predominantly female – the goddesses at work.  Somewhere along the timeline of the ages – women dropped out of sight in terms of being high profile in the arts world.  What top artists' names instantly pop into your head?  Picasso, Renoir, Monet, Michelangelo, DaVinci?  All male. Nowadays, even though statistically there are more women working in the arts than men, there are few female artists at "the top."
I sometimes wonder, why the tables are tilted gender wise, in regards to "worth".  Is it because women, especially women my age, still somehow feel, that when they pursue their dreams so intensely, they often run the risk of compromising their personal life and relationships? I know I have felt the "norms of society" passing judgment on me at times.
I'm not sure if I will ever be "the norm", nor do I think I will ever want to be.  Half the time I don't even take notice of things like that because I'm so caught up in pursuing what it is I feel I just have to do. It was very clear when I was at the SLO Film Festival last week that I was certainly not "the norm" as far as "indie filmmakers" are concerned – a group that is mostly "30 something" males. No doubt, I will be more of "the norm" at the LA Women's FF this week, but then again I probably won't even think about it.  I'm just doing what it is I'm supposed to be doing at this point in my life.  Or at least that's what my inner voice keeps telling me.
Everyone asks, "What's next?"  I do have a "what's next" project in my mind.  But I'm not quite ready to abandon this one yet.  One young filmmaker told me last week "You never really finish a film – but you do get to a point when you can let go of it and move on to something else".  That time is coming – I'm feeling it.  But right now, I'm not ready to let go of this one – the circle is not yet complete.
Did the title get your attention? I'm not surprised. Aren't a lot of Americans interested in knowing where the happiest place in America is? But what about the people who live in the happiest place in America and aren't happy?  Wow – it must be awful to know that even though you live in what is deemed the "happiest place in America" –  you still aren't happy. Happiness isn't about the "where" as much as it is about the "is". What "is" right for one – "isn't" right for someone else.
Regardless, tomorrow I'm boarding a flight to a place that has been called the "happiest place on Earth", San Luis Obispo, CA. San Luis Obispo has already made me happy. Our film has been selected for the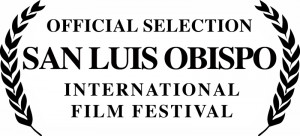 San Luis Obispo International Film Festival. I'm quite psyched about the whole thing. I admit it. It will be a first for me – having a film in a film festival. What an honor it is to bestow on a project that I have put my heart and soul into for more than two years.
It will be fun, with all sorts of festivities planned. One particular event that I am really looking forward to is the screening of Citizen Kane at the Hearst Castle! It's the first time this film will be screened at the castle and one of William Randolph Hearst's grandsons will host the evening. I am a huge "old movie" fan – always have been even as a little kid, so this is right up my alley. There will be lots of celebrities there but I will be more enamored with the historic attributes of the night – than the glam.
Festivals are definitely an ego thing. But they also bring awareness to films, which is the whole reason filmmakers make them, especially documentaries. Why make films if no one sees them? It's a great opportunity to get audience feedback too. One of our subjects, Gina Low will be there too, which is wonderful. She'll be in attendance for another festival that we have been invited to later in the month, The Los Angeles International Women's Film Festival.

It's a competitive business, getting into festivals, so I will cherish every minute of both experiences.
This is the fun part of the process of making a film, seeing it screened in a theatrical setting and dialoging with the audience. The payback, after so much hard work. I am "happily" heading out the "happiest place on Earth" and get to share the experience with my wonderful team – my daughter, my husband and my special friend Angel.
I'm already happy and I haven't even gotten there yet.
It's hard to believe that it has been 25 years, today, since you were born.  My life changed that day I became your mother,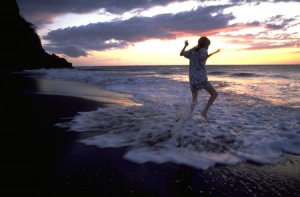 in thousands of meaningful ways.  I cannot have imagined how life would have been without you in it.
I'm sure every parent reading this understands how profoundly life changes when they become a parent – and for the good.  The biggest change for me is that I became less selfish.  I had to consider that my actions not only affected just me anymore.  Of course couples should think like that anyway if they want to have a good relationship – but it's a different type of selfless care when it comes to your child.
Today is another milestone.  It was two years ago that we started our journey together as far as this project.  We officially launched the Opening Our Eyes blog on Jan. 5, 2010.  Five months later we embarked on our travels around the world.  We not only completed the journey – we have completed a film.  A film that I hope will inspire others to do whatever small acts – or large acts – they can that can make our planet a better place.
It seems fitting that at midnight tonight our campaign on IndieGoGo is over – bringing this blog and project full circle.
I never would have imagined 25 years ago that we would have experienced such a wonderful and amazing project together.  But we did and we will have that connection for an eternity.  But to be honest, I value every other little moments in our lives that we've spent together just as priceless.
Happy Birthday
← Older posts
Newer posts →